Heavy lake effect snow possible on Friday near Chicago
Winds off Lake Michigan will help enhance snowfall on Friday around Chicago.
CHICAGO – Some areas of northeastern Illinois could pick up of upwards of a foot of snow on Friday as brisk northerly to northeasterly winds help bring in air from over Lake Michigan, creating lake effect snow.
Meteorologists expect a widespread swath of 1 to 3 inches of snow from southern Wisconsin to northwestern Indiana but warn snow will be heavier where slow-moving bands develop.
Forecast models show upwards of around a half of foot of snow in Chicago, if the city winds up under a heavy band.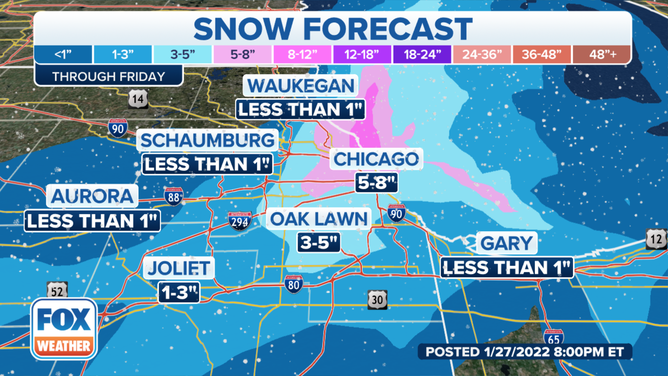 The National Weather Service advises drivers around the lake, in downtown Chicago and into northern Lake County, Indiana to be mindful for rapidly changing conditions during the Friday morning commute.
WHY ARE CHICAGO'S TRAIN TRACKS ON FIRE?
There remains some uncertainty as to which exact communities will find themselves under the narrow but heavy band of snow.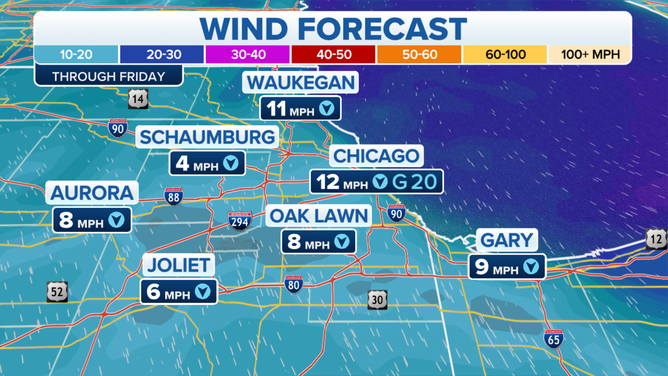 The NWS issued a Winter Storm Warning for Lake and Cook counties in Illinois until noon CST because of the threat.
Forecast models show the heaviest snow tapering off by late morning, with possible flurries lasting into the afternoon.
The snowfall is expected to be the last event for the Windy City through at least next Tuesday.