Golden State scorcher: Central California swelters under triple-digit temps
Temperatures in California will soar again to near and over 100 degrees Wednesday in the Sacramento and San Joaquin valleys, which will challenge daily records
LOS ANGELES – The West is baking under a lingering heat wave.
Temperatures in California will soar again to near and over 100 degrees Wednesday in the Sacramento and San Joaquin valleys, which will challenge daily records.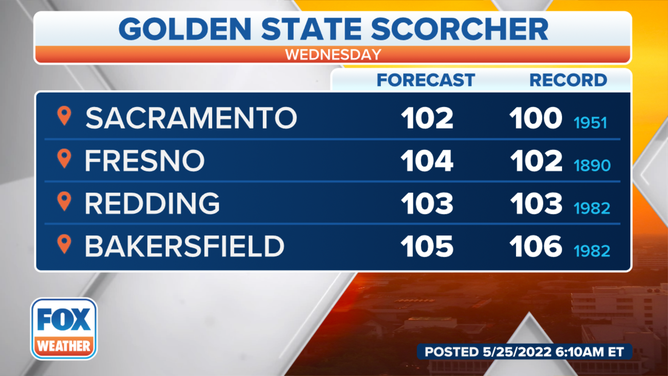 Far above-average temperatures are likely for the Great Basin as well, where readings well into the 80s and lower 90s will be common.
HOW TO WATCH FOX WEATHER ON TV
Heat Advisories have been issued until 11 p.m. Pacific time for the San Joaquin Valley, the Kern River Valley and the Sacramento Valley.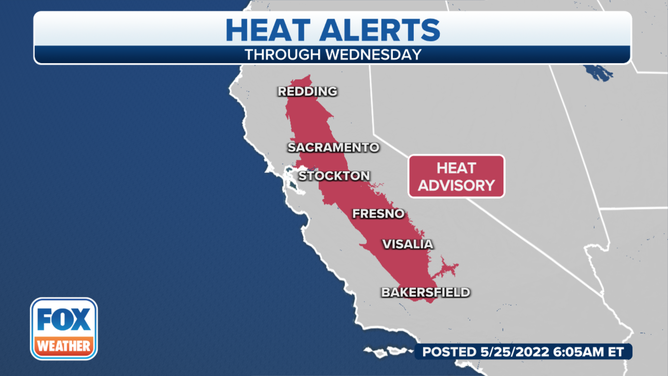 Nearly a dozen record highs could be tied or broken across Northern and Central California.
KEEPING YOUR FURRY FRIEND SAFE AND HEALTHY AS TEMPERATURES RISE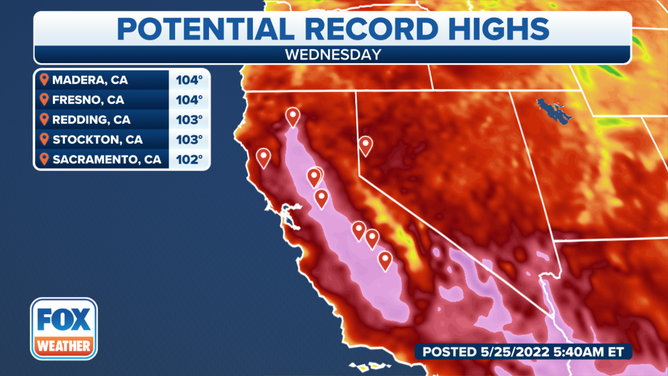 The dry, windy and warm conditions in New Mexico and far southwestern Texas may lead to a fire weather risk again for Wednesday, the National Weather Service said.
The core of the hot temperatures will shift northeastward into the rest of the interior West and the northern Rockies on Thursday where temperatures are likely to be 10 to 20 degrees above average for late May.
WHAT IS THE HEAT INDEX AND WHY IS IT IMPORTANT TO YOUR HEALTH?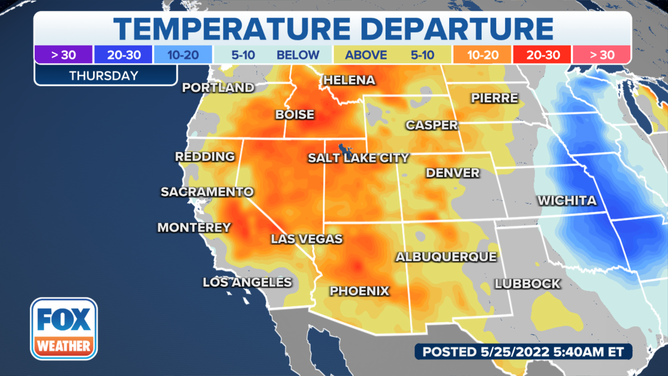 Temperatures in the West will moderate starting Friday.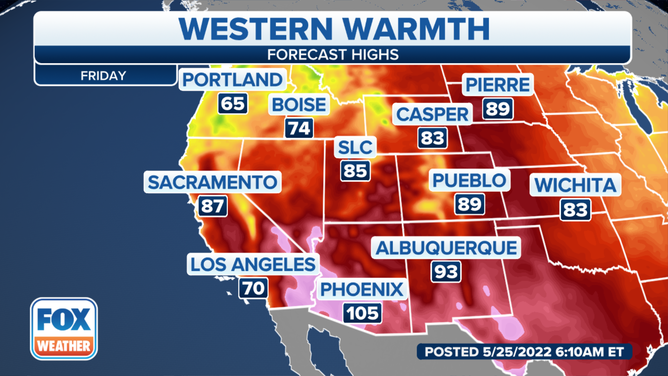 HOW TO TELL THE DIFFERENCE BETWEEN HEAT EXHAUSTION AND HEATSTROKE
Heat-sensitive people and those who are new to the area will be most prone to heat illnesses, according to the NWS. Dehydration and prolonged exposure or strenuous physical activity outdoors could lead to heat exhaustion and heatstroke. 
If you have to be outside, apply sunscreen, stay hydrated and wear light-colored, loose-fitting clothing.
CLICK HERE TO GET THE FOX WEATHER UPDATE PODCAST
Be sure to download the FOX Weather app for the latest forecast and weather alerts for your exact location, plus the 24/7 livestream of America's Weather Team.