Hawaii gets nearly 15 inches of rain; state of emergency declared
Governor declares state of emergency as flooding continues across the islands. The weather-maker, Kona Low, will push west starting Tuesday.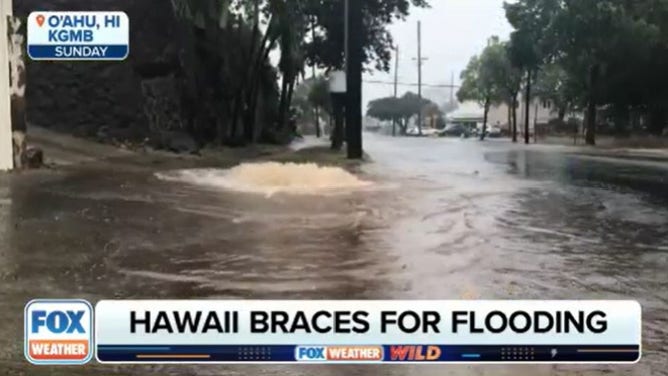 Hawaii Governor David Ige declared a state of emergency for the entire state of Hawaii after almost 15 inches of rain soaked some areas of the state in just the past two days.  A Kona Low storm continues to batter the islands with heavy rains and high winds.  
HAWAII 'KONA LOW' PROMPTS BLIZZARD CONDITIONS, HIGH WINDS AND FLOODING RAINS
Floodwaters ran through a community in Kihei on Maui Monday, stranding residents in feet of mud and water.
Maui's drivers had to maneuver around waterfalls created by the deluge on highways Monday.
Here are some of the storm totals as of late Monday: 
Nene Cabin on Hawaii 14.07 inches
Kula on Maui 12.95 inches
Puu Alii on Molokai 8.69 inches
Poamoho on Oahu 7.36 inches
School was closed Monday along with government offices in Maui, Lanai and Molokai.  Hawaiian Electric tweeted that 20,000 customers lost power at some point on Monday.  Poweroutage.us reports that almost 5,000 homes and businesses are still in the dark.
At one point, the NWS issued a Flash Flood warning as radar indicated rainfall rates of 3-4 inches per hour over Oahu.  
"The National Weather Service has advised us that for Oahu, there is still potential for what they consider to be catastrophic rainfall," said Hirokazu Toiya, Director of Emergency Management for Honolulu, in a Monday afternoon press conference.
"We are potentially looking at an additional 10-15 inches of rain," he continued saying Oahu opened four emergency shelters.
High morning astronomical tides exacerbated flooding due to excessive run-off.  The water was knee-deep on Kalakaua Avenue in Waikiki on Sunday.  High tides will bring a repeat Tuesday morning, say Emergency Managers.
Emergency managers warn of more landslides and flooding closing roads like Highway 11 on the Big Island with more rain and already saturated ground.
The NWS issued Small Craft Advisory until late Tuesday. The U.S. Coast Guard said in a statement that they responded to four vessels in distress over the weekend.
The NWS's Flash Food Watch extends through Tuesday as the heavy rains push over the western islands of Oahu and Kauai.  Civil Defense will conduct damage assessments starting Tuesday. 
FOX Weather's Max Gordon is in Hawaii to bring the latest to FOXWeather.com.