Kona Low blasts Hawaii with snow, flooding rain as Kilauea spews lava
The significant moisture surge that moved into the islands on Thursday will remain in place through Saturday, bringing several inches of rain across the islands and prompting Flood Watches.
HONOLULU, Hawaii – Parts of the Hawaiian Islands may look more like a winter wonderland, while other areas of the state see flooding rains, thanks to a storm system known as a Kona Low.
Locally breezy and cool north winds have weakened and shifted to the south, increasing the humidity as the low just west of the Big Island moves west. The significant moisture surge that moved into the islands on Thursday will remain in place through Saturday.
The National Weather Service in Honolulu said the moisture would fuel what is expected to be a prolonged period of rainfall, with heavy showers and thunderstorms potentially affecting both windward and leeward areas of all islands.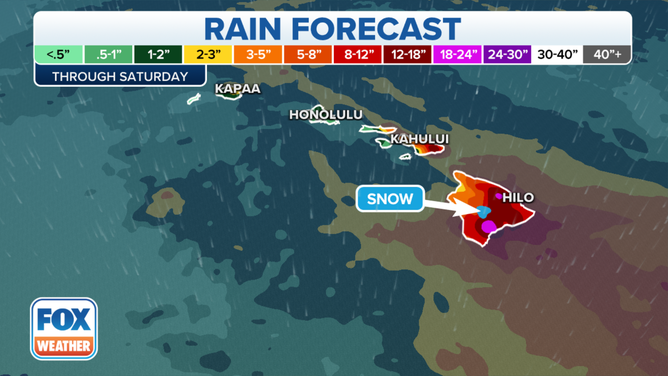 Hilo may see 8 to 12 inches of rainfall through Saturday while about 2 to 3 inches of rain are likely in Honolulu, according to the FOX Forecast Center.
A Flood Watch for the entire state is in effect as heavy rains began on The Big Island on Thursday and quickly spread across the rest of the state. Some eastern areas of the Big Island already had picked up 1-3 inches of rain by early Friday morning.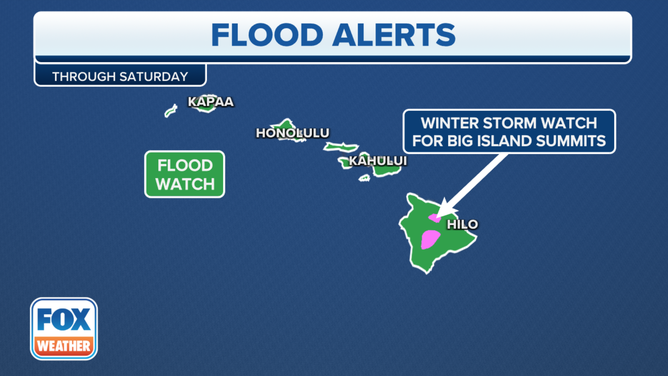 Kona Lows are types of storms when there is a switch in the prevailing wind direction over the islands. Typically, Hawaii's weather is dominated by the trade winds which blow from the northeast. 
A Kona Low changes the wind direction to the southwest, bringing moisture-rich air over the leeward or "kona" side of the mountains. That abundant moisture interacts with the topography of the islands and can create tremendous amounts of precipitation.
Heavy snow
While most of the islands get drenched, there is the potential for heavy snow on the summits of the Big Island as temperatures drop to near or below freezing. Accumulations over a foot and winds gusting up to 60 mph could produce near-blizzard conditions at times, along with significant icing.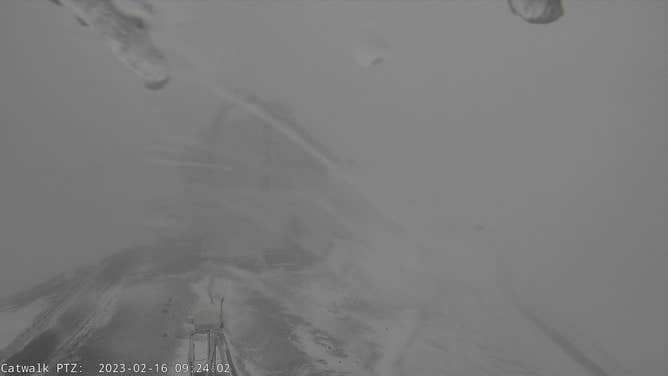 A Winter Storm Warning is in effect for the Big Island summits through Saturday evening. The NWS advised anyone planning travel to the summits, including hikers and campers, to monitor the latest forecasts and consider postponing their trip until the weather improves.
"Travel to the summits will be life-threatening and  impossible," the NWS advised in its Winter Storm Warning, adding travel could be very difficult to impossible with blowing snow reducing visibility to zero at times.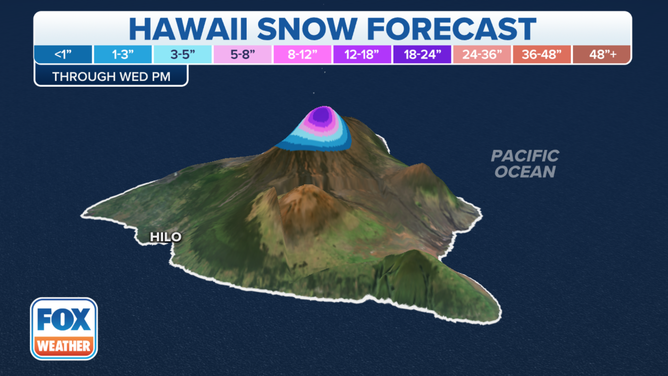 Fire and ice
The snow will also mix with fire as the summit eruption of Kīlauea Volcano, within Halemaʻumaʻu crater.
The U.S. Geological Survey said the eastern lake remains active and is about 25 acres in size. The small southern lava fountain is also still active. Click here to view a live-stream video of the lava lake.