Haboob wrangles Texas Panhandle with dust driven by powerful winds
Amarillo to Lubbock were lost in a cloud of dust before thunderstorms moved in.
Some in the Texas Panhandle may have been wondering if this could be the end of days. First, they felt record heat, then a blinding dust cloud with tropical-storm-force winds and then golf ball-sized hail and flooding rain.
Take a look at the video above of the haboob kicked up by strong outflow winds from severe thunderstorms. Rain, hail and the rain-cooled air fell from a thunderstorm and formed downdrafts which can be violent as they hit the surface and create outflow winds. 
WHAT IS A HABOOB? IT'S JUST DUST IN THE WIND…
Radar shows the strong and severe thunderstorms west of Lubbock that stirred up the earth.
Outflow gusts and straight-line winds hit speeds of 81 mph in Pampa, 69 mph in Goodnight and 61 mph in Levelland by Lubbock. Gusts pick up dust from the area in extreme and exceptional drought, according to the U.S. Drought Monitor, and created what looked like a reddish-brown tidal wave washing over the Permian Basin.
Visibility in the "wave" dropped to 500 feet in Whiteface, to a quarter-mile in Big Spring and to 2.5 miles in Midland. Traffic on I-20 and Highway-60 could barely see the cars in front of them. The NWS issued a Dust Storm Warning for several counties around Lubbock until 9 p.m.
Hot, dusty and sunny start to the day
Earlier in the day temperatures soared to record highs in the area:
Amarillo hit 100, beating the 2018 record of 98
Borger hit 102 beating their 2000 record of 99
Dalhart hit 98 beating their 2000 record of 96
Warm air rose and some thermals formed dust devils, vortices of dust, that swept across highways. 
A spotter in Deaf Smith County then reported heavy, brief rain with golf-ball-size hail and 65 mph winds. Another spotter in Armstrong saw ping pong ball-size hail.
The NWS cautioned residents of flash flooding as some areas received an inch of rain in a short time.
Just as quickly as the crazy weather moved in, it calmed. A meteorologist from the NWS office in Amarillo posted a rainbow photo taken just outside announcing that the weather eased up.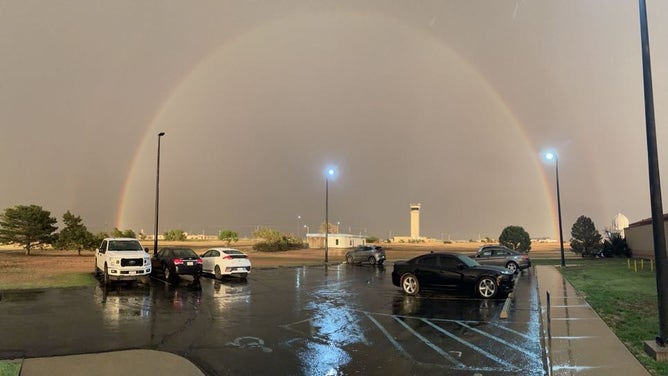 "Hard to say what was a more beautiful sight, the wet ground or this rainbow left behind," the scientist posted welcoming any drought relief.