Grindstone Fire in NC burns 1,000 acres; cause was human-made
North Carolina Forest Service issues ban on all open burning, cancels all burning permits statewide until further notice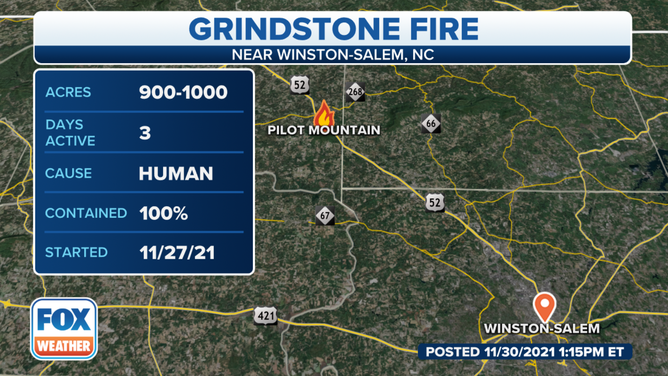 WINSTON-SALEM, N.C. – A wildfire burning on Pilot Mountain in North Carolina has burned more than 1,000 acres since Saturday, according to officials.
The fire, known as the Grindstone Fire, had grown to more than 100 acres by Sunday, forcing state officials to close Pilot Mountain State Park while crews worked to contain the blaze.
That park is likely to remain closed through the end of the week.
And because of the increased fire risk, the North Carolina Forest Service issued a ban on all open burning and canceled all burning permits statewide until further notice.
"It is fall wildfire season in North Carolina, and we are seeing wildfire activity increase due to dry conditions," said Agriculture Commissioner Steve Troxler. "With these ongoing conditions, a statewide burn ban is necessary to reduce the risk of fires starting and spreading quickly. Our top priority is always to protect lives, property and forestland across the state."
Under the law, the ban prohibits all open burning in the affected counties, regardless of whether a permit was previously issued.
The fire, which officials say was human-made, grew 75 acres between Sunday night and Monday morning. And by Monday afternoon, the blaze grew even larger, burning about 500 acres.
Officials say the fire is 20 percent contained, but remains within the existing containment lines, according to officials. The last time the state saw a fire this large was in 2012.
Luckily, no damage to buildings has been reported and no one has been injured.