Grace intensifies into a hurricane ahead of landfall on Mexico's Yucatan Peninsula Thursday
Hurricane warnings are in effect for Mexico's Yucatan Peninsula
Grace intensified into a hurricane Wednesday near the Cayman Islands and is now headed toward Mexico's Yucatan Peninsula, where landfall is expected Thursday morning.
As of 5 p.m. Eastern, Hurricane Grace had maximum sustained winds of 80 mph, a Category 1 on the Saffir-Simpson Hurricane Wind Scale. It was moving west-northwestward through the Caribbean Sea toward the Yucatan Peninsula, where heavy rain and strong winds are expected to arrive Wednesday night.
The National Hurricane Center has issued a hurricane warning for a portion of the Yucatan Peninsula from Cancun to Punta Herrero, including Cozumel. Hurricane-force winds (74-plus mph) are expected within the warning area late Wednesday night or early Thursday morning, with tropical-storm-force winds (39-plus mph) beginning as early as Wednesday evening.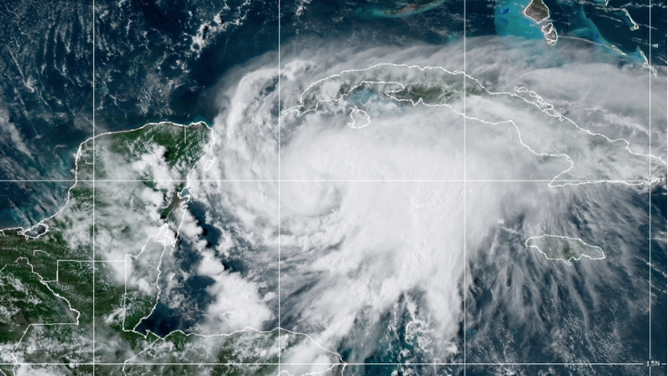 Tropical storm warnings are posted for other parts of the Yucatan Peninsula from north of Cancun to Campeche and from south of Punta Herrero to Puerto Costa Maya, where tropical-storm-force winds are expected Wednesday night into Thursday morning.
Additionally, a tropical storm watch is in effect for the southern coast Cuban province of Pinar del Rio, as well as Isla de la Juventud. Tropical-storm-force winds are possible within the watch area through Wednesday evening.
According to the NHC, Hurricane Grace is expected to make landfall in the Yucatan Peninsula of Mexico Thursday morning. Some additional strengthening is possible before the center of Grace reaches the coast.
After weakening over land Thursday, Grace will move into the southwestern Gulf of Mexico on Friday. It is then forecast to regain hurricane strength prior to making a final landfall in Mexico's Veracruz state late Friday night or early Saturday. Damaging winds, flooding rain and storm surge are all potential threats in Veracruz state.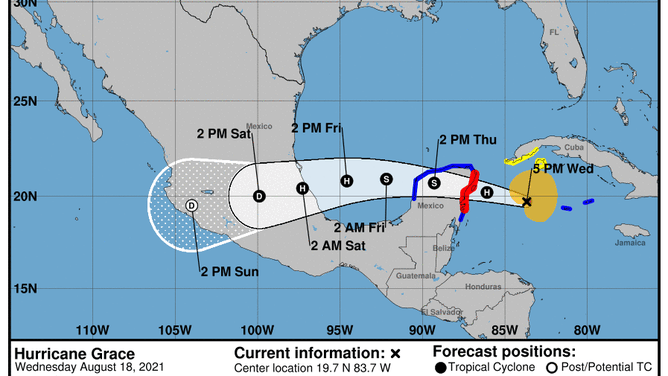 Grace is predicted to produce 4 to 8 inches of rain, with isolated maximum totals up to 12 inches, over the Cayman Islands and central and northern portions of the
Yucatan Peninsula through Friday.
In central and northern Veracruz state of Mexico, 5 to 10 inches of rain, with isolated maximum totals of 15 inches, is expected from Friday through Sunday. Heavy rainfall from Grace will likely result in areas of flash and urban flooding, with mudslides possible in Veracruz, the NHC said.
A dangerous 3- to 5-foot storm surge is also expected along the immediate coast near and to the north of where the center makes landfall in the northeastern Yucatan Peninsula Thursday morning. This surge will be accompanied by large and destructive waves.
Sabrina Turner, Cayman Islands Minister of Health and Wellness who was newly appointed in June, posted a video late Tuesday night informing residents that a shelter will be opening its doors due to Grace and encouraged them to head there. Crews might not be able to get to them in a timely fashion after the storm passes. The mental health line is also open for any residents who may need it at 800-534-6463. Turner said residents should keep tabs on social media for all updates.
Stay with FOX Weather for the latest developments on Hurricane Grace.