Tornadoes rip across Germany injuring dozens
On average, around 300 tornadoes form every year across the European continent
PADERBORN, Germany – At least three tornadoes tore through the heart of Germany on Friday, injuring dozens and causing damage for miles.
The hardest-hit area appeared to be Paderborn, where authorities said at least 43 people were injured, and some were being treated for serious wounds.
Officials believe the tornadoes had winds greater than 73 mph and uprooted trees, damaged roofs and overturned vehicles.
"Paderborn is horrified. Paderborn is shocked. And Paderborn is more than deeply affected," Mayor Michael Dreier said in a statement. "An unspeakable tornado raged over Paderborn and severely destroyed parts of the city. It's shocking when you see what can happen to a city in such a short amount of time."

HOW TO WATCH FOX WEATHER ON TV
The city said local hotels were offering rooms to storm victims whose homes and apartments were damaged during the severe weather.
The German Weather Service tracked the storm system that moved from France into Germany and issued alerts ahead of the storms.
The system also produced hail, heavy rain and damaging winds in several areas.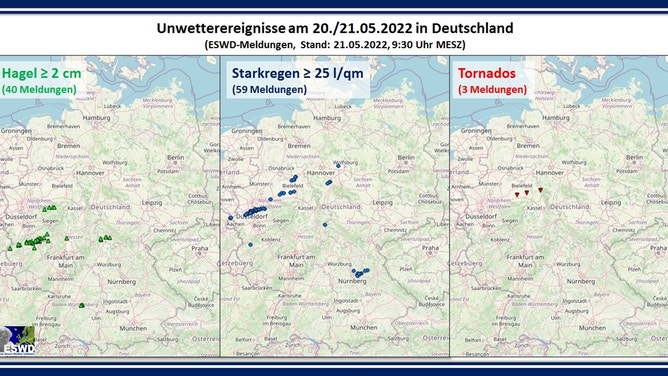 Hail larger than golf-ball-sized was reported in parts of western Germany, where meteorologists warned damage to crops and windows was likely.
SOLAR STORM TRIGGERS DAZZLING DISPLAY OF NORTHERN LIGHTS OVER FINLAND
The weather service reported the storms were responsible for at least one death.
A man in southwest Germany was reported to have been shocked by electricity when he entered his flooded basement and hit his head.
While storms are not a rarity in Europe, seeing significant outbreaks of severe weather is not common.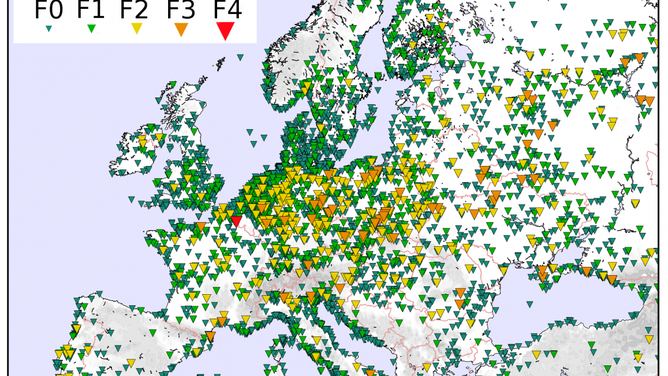 The European Severe Storms Laboratory estimates only 300 tornadoes form each year across the continent.
Because most of the region's climate is considered to be temperate, moisture and temperature profiles tend not to be as conducive for severe weather as in vast areas of the United States.
The Nation Oceanic and Atmospheric Administration says around 1,300 tornadoes form each year in the U.S., making the country the leader in seeing these violent windstorms.