Florida Gov. DeSantis warns it's no longer safe to evacuate as Hurricane Ian surges onto Gulf Coast
More than 2.5 million were given mandatory or voluntary evacuation orders in Florida as Hurricane Ian continued to strengthen in the Gulf. Officials say it is now too late to evacuate and time to hunker down.
Visit the FOX Weather Wire for live updates on Hurricane Ian as it rips through Florida. Click here for the latest forecast, evacuation orders and more.
For Florida residents who opted not to leave ahead of Hurricane Ian, it's time to brace for the major hurricane's impacts, Florida Gov. Ron DeSantis said Wednesday ahead of landfall.
"It's no longer possible to safely evacuate. It's time to hunker down and prepare for this storm," DeSantis said. "This is a powerful storm that should be treated like you would treat it if a tornado was approaching your home."
Over 2.5 million were given mandatory or voluntary evacuation orders this week as Ian's continued strengthening before landfall in Cuba, knocking out the island's power grid.
Hurricane Ian is expected to make a catastrophic landfall Wednesday afternoon in Southwest Florida between the Sarasota, Port Charlotte and Fort Myers areas.
LEARN HOW TO SURVIVE A HURRICANE IF YOU DIDN'T EVACUATE
"A storm of this magnitude will produce catastrophic flooding and life-threatening storm surge on the Gulf Coast of Florida," DeSantis said.
Tropical-storm-force winds will be felt throughout much of Florida Wednesday, and most of the I-4 corridor is under a Hurricane Warning. 
First responders will be unable to respond to calls during Ian's most dangerous impacts, including life-threatening storm surges.
Fire and emergency services have been suspended in Charlotte County where Hurricane Ian landfall is expected.
Charlotte County Emergency Management Director Patrick Fuller said first responders are no longer able to respond to 911 calls. However, the emergency line will remain operating. 
"Over the next several hours of which we will begin experiencing the most extreme effects of Hurricane Ian, we can expect to see storm surge to life-threatening levels into several of our hurricane evacuation zones in Charlotte County," Fuller said Wednesday morning.
To the north of Tampa in Polk County, Sheriff Grady Judd told residents to stay put in the middle of the storm. 
"The good lord has sent us a hard blow and deep water," Judd said. "Otherwise, if you stay where you are, understand? If you get scared, we don't come to get you in the middle of the storm. We're all on missions to save lives at that moment in time. And that's what our deputies will be doing. They'll be on a mission to save lives but not pull people out of flood zones. You'll just have to hunker down in the house and do the best that you can."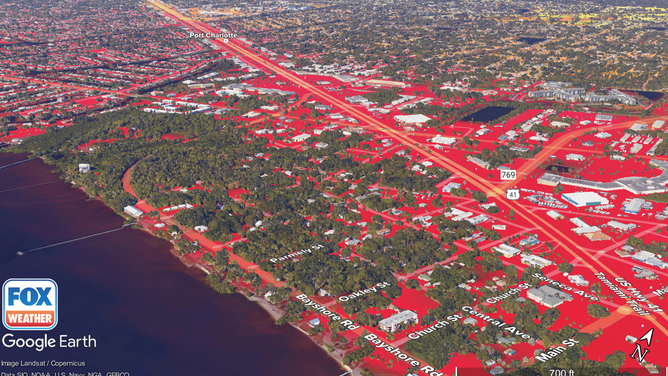 Ahead of landfall, power outages were beginning to spike in Southwest Florida. Over 40,000 power and utility personnel and lineman are stationed in Florida to respond to outages when it's safe.
HURRICANE IAN TRACKER: PROJECTED PATH, WATCHES AND WARNINGS, STORM SURGE, WINDS, RAINFALL TOTALS AND MORE
More than 5,000 National Guardsmen, including 2,000 from other states, are in Florida, ready to respond after Ian passes, DeSantis said.
Florida power outages.
(FOX Weather)
---
The last time a Category 4 hurricane made landfall in Florida was Hurricane Irma in 2017 in the Florida Keys, according to the National Oceanic and Atmospheric Administration. Irma was downgraded to a Category 3 hurricane before continuing onto the Florida Peninsula just south of Naples.
WATER FROM HURRICANES, TROPICAL STORMS KILLS MORE IN US THAN WIND
Hurricane Michael in 2018 was the last Category 5 landfall in Florida. Michael left widespread devastation in the Florida Panhandle.
Category 5 landfalls in the U.S. are rare. Before Michael, Hurricane Andrew in 1992, which also struck Florida, was the last Category 5 landfall. There are only two other known Category 5 landfalls in the continental U.S. Hurricane Camille in 1969 and the Labor Day Hurricane of 1935.