Florida faces another stormy weekend while king tides trigger coastal flooding
Steamy conditions have returned this week with rounds of unrelenting rain across Florida. Some areas of South Florida could see a couple of inches of rainfall through Monday.
ORLANDO, Fla. – Parts of the Sunshine State are still struggling to live up to its name this weekend as rain chances have plagued the state over the last two weeks.
The culprit: A stalled frontal boundary that has more than worn out its welcome, triggering daily storms and high tides, keeping some areas from draining during periods of high tide.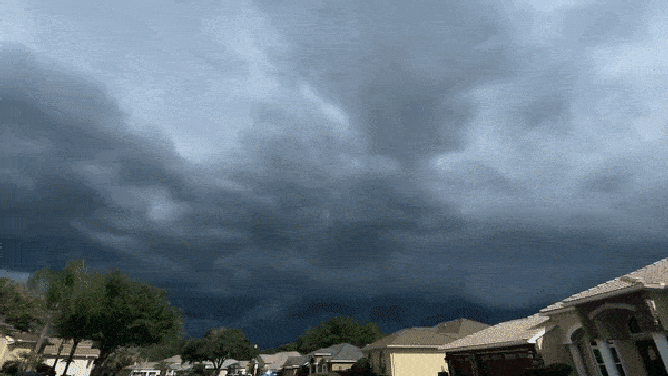 "What's going on right now is we have a little stationary boundary," said FOX Weather meteorologist Michael Estime. "That's serving as that focus mechanism for those showers and thunderstorms to erupt along."
While the front draped across the peninsula is the main focus, storms will be likely all across the state as above-average moisture transports into the region, bringing showers and thunderstorms through the weekend.
Thunderstorms are expected into the weekend before drier weather returns early next week. Most areas across South Florida will see 1–3 inches of rain through Monday evening. 
A look at the rain forecast into Monday.
(FOX Weather)
---
Due to the presence of abundant tropical moisture, the showers and thunderstorms that occur will result in significant rain falling within a short period.
That tropical moisture will also make it feel steamy, according to the FOX Forecast Center. High temperatures are expected to reach the mid- to upper 80s each day, but dew points in the low to mid-70s will push heat indices into the 90s.
"By the time we get to Monday, this upcoming workweek, we will start to clear things out and dry things out," Estime said.
Coastal flood concerns for part of Florida's east coast
In addition to the flooding from heavy rains, a combination of king tides and onshore easterly winds will result in the potential for minor to moderate coastal flooding along Florida's east coast.
Alerts including Coastal Flood Warnings, Rip Current Statements and Coastal Flood Advisories are in effect from near the Florida-Georgia border to South Florida.
Additional coastal flooding will remain possible around the times of high tide along the Atlantic coast over the next couple of days.
Rip Current Alerts
(FOX Weather)
---
A week of relentless rain
Across the state, there are widespread two-day rain totals of more than 2 inches. Some spots have received 4-5 inches of rain since Tuesday, including Jacksonville, Orlando, and West Palm Beach. On Tuesday alone, Jacksonville received more than its average September rainfall.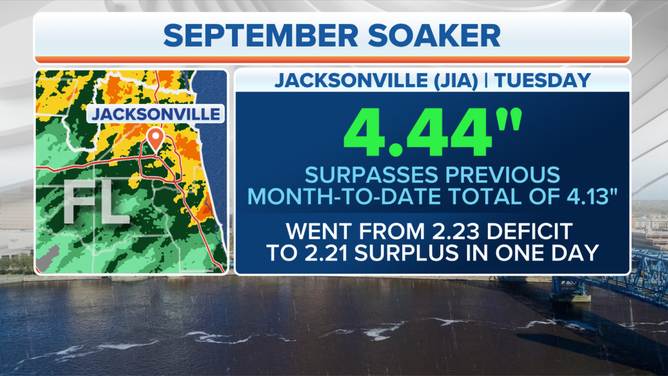 "It's a lot of rain when you start nailing it down in the record books," said FOX Weather meteorologist Britta Merwin. "That's when you know that you've surpassed what is normal or average for this time of year."
Drivers became stranded in Jacksonville on Tuesday after their vehicles stalled in 3-foot deep floodwater. Many areas in San Marco also saw flooding as storms brought up to 3 inches of rain.
HOW MUCH WATER DOES IT TAKE TO DAMAGE A CAR? DOES IT MATTER IF IT IS SALT OR FRESH?