Flooding prompts evacuations in New Jersey after Hackensack River crests
Flood Warning remains in effect until Friday evening for parts of northeast New Jersey, southeast New York
BERGEN COUNTY, NJ. – Homes are under evacuation Friday after excessive rainfall caused the Hackensack River in New Jersey to crest, flooding city streets.
Aerial video from FOX 5 New York shows water rising up to homes in the New Milford borough of Bergen County, New Jersey. First responders were traveling by boat warning residents that they need to get out and conducting rescue efforts.
Storms Thursday night brought the Hackensack River to a moderate flood stage, cresting at 8.57 feet. Areas received 2 to 4 inches of rain into Thursday night, prompting Flood Warnings for the region.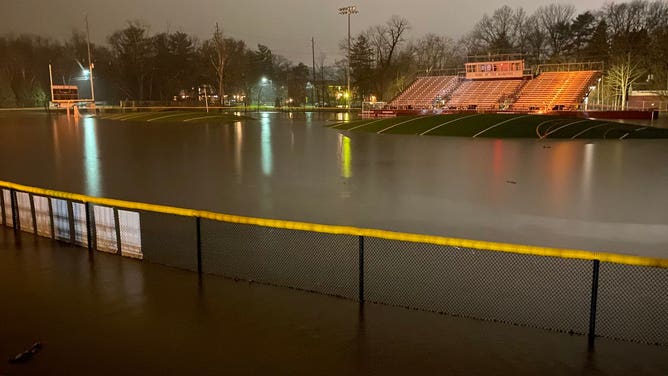 A Flood Warning remains in effect until 4 p.m. for parts of northeast New Jersey and southeast New York. 
According to the National Weather Service Office in New York, the Flood Warning includes the Rampo River in Orange, Rockland, Bergen and Passaic counties. Minor flooding along Route 202 is possible, however, the river is expected to fall below the flood stage later Friday afternoon.
According to the NWS, flood Warnings were issued for the Saddle River in Lodi, New Jersey and will remain in effect until Friday evening.
Flooding is affecting travel in northeast New Jersey. NJ Transit bus routes are being delayed until further notice because of flooding around the Oradell Bus Garage. Check the NJ Transit website for the latest information.
Some bridges in Lodi were closed Friday due to rising waters, according to the Lodi Police Department. The bridge at Passaic Avenue and Memorial Drive was closed around 9:30 a.m. 
The NWS in New York says most of the flooding is expected to subside later Friday night and into Saturday.