At least 4 people missing after 'storm of a lifetime' sweeps through southeast Canada
Residents were urged to remain in their homes as many roadways were washed out during the flash flooding. A state of emergency was declared in Nova Scotia.
HALIFAX, Nova Scotia – A slow-moving frontal boundary that triggered flooding in Massachusetts on Friday produced scenes of destruction in southeast Canada, with authorities reporting at least four people still missing Saturday due to floodwaters.
The West Hants Regional Municipality, about an hour's drive northwest of Halifax, appeared to be one of the hardest hit areas, with authorities still searching for at least two children and two men following the flash flooding.
Mayor Abraham Zebian said the two children were separated from three other occupants when their vehicle became submerged. In a separate incident, two men were also unaccounted for after floodwaters overtook their vehicle.
BASEBALL FANS AT FENWAY PARK WADE THROUGH FLOODWATER AS STORMS FORCE SUSPENSION OF METS-RED SOX GAME

"I know it is in our nature to spring into action and help, but sadly now is not the time," Tim Houston, Nova Scotia's premier, said during a Saturday news conference. "The Royal Canadian Mounted Police is asking people in the area to not leave their homes in an effort to help search for the missing. This is because the ongoing conditions are dangerous."
A state of emergency has been declared, and federal resources have been devoted to operations.
Preliminary data from the country's national weather service showed at least 10 inches of rain falling over the province of Nova Scotia during a 24-hour period.
"We got three months' worth of rain in less than 24 hours," Houston said. "It came fast, and it came furious."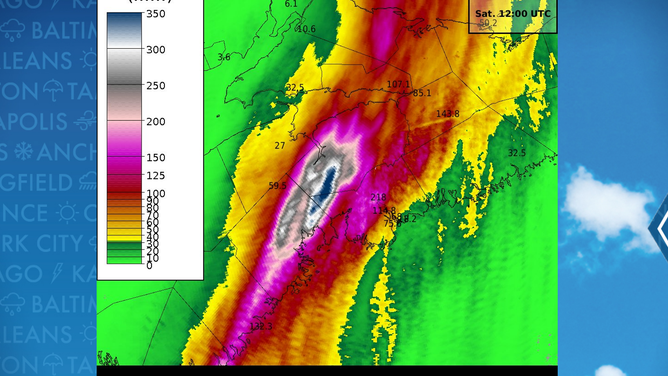 HOW TO WATCH FOX WEATHER ON TV
Local officials reported several streams and rivers quickly overflowed their banks, leading to washouts of roadways and hazardous driving conditions.
Evacuation orders were issued along the St. Croix River system due to worries over the failure of a dam, and shelters were opened for potentially hundreds of impacted residents.
"To the people of Nova Scotia, who are dealing with serious flooding: We're here for you," Canadian Prime Minister Justin Trudeau said in a statement. "Through [the Joint Rescue Coordination Centre Halifax], we're providing resources to help with evacuations – and we stand ready to provide any additional federal resources needed. Please stay safe, everyone."
Mayor Carolyn Bolivar-Getson, of the Lunenburg municipality, called the event a "storm of a lifetime" and said first responders were going door to door, helping residents reach higher ground.