Flash Flood Watches issued in Tennessee Valley, Southeast as heavy rain threat continues
Flash flooding already inundated parts of Alabama and Florida over the weekend
The threat of flash flooding continues Monday in the waterlogged Tennessee Valley and Southeast as areas of heavy rainfall persist across these regions.
Moisture and the upper-level circulation associated with the remnants of former Hurricane Nicholas, which made landfall in Texas last week, have brought heavy rain to parts of the South over the last several days.
Montgomery, Alabama, recorded its eighth consecutive day with measurable rain Monday, a tie for the 10th-longest rainfall streak on record there, according to the National Weather Service. Rain remains in the city's forecast for Tuesday and Wednesday, which would put the streak at 10 straight days of rainfall, a tie for the second-longest rainy streak. It would also be the second time this summer Montgomery had a top-three rainfall streak, following a stretch of nine straight days with rain in July.
At least one motorist was killed by floodwaters Saturday in Tuscaloosa, Alabama, after his SUV was swept into a drainage ditch and became stuck. A witness told authorities that he saw the victim disappear underwater and not resurface, WBRC-TV reported.
Video shared on social media showed several vehicles driving through floodwaters on Paul William Bryant Drive in Tuscaloosa Saturday afternoon.
On Sunday, heavy rain brought flash flooding to parts of Central Florida.
Sanford, Florida, some 20 miles northeast of Orlando, received 5.17 inches of rain Sunday, smashing the previous rainfall record for that date of just over 2 inches. The city reported an astounding 3.3 inches of rain in just a 45-minute span early Sunday evening, according to the NWS.
FOX 35 Orlando was in Sanford Monday morning to see the damage left behind by Sunday's record rainfall, and daylight revealed that a big hole had opened up at Fort Mellon Park.
Forecast
Heavy rain could lead to additional flash flooding on Monday, particularly across portions of the Tennessee and lower Ohio valleys and the southern Appalachians.
Areas along the Southeast coast also have a flash flooding threat Monday as onshore winds reinforce the tropical air mass already in place over the southern United States.
The NWS has issued Flash Flood Watches for Western and Middle Tennessee, northern Mississippi, northern Alabama and northwestern Georgia. Flash Flood Watches are also in effect from North Florida to the coasts of Georgia and South Carolina.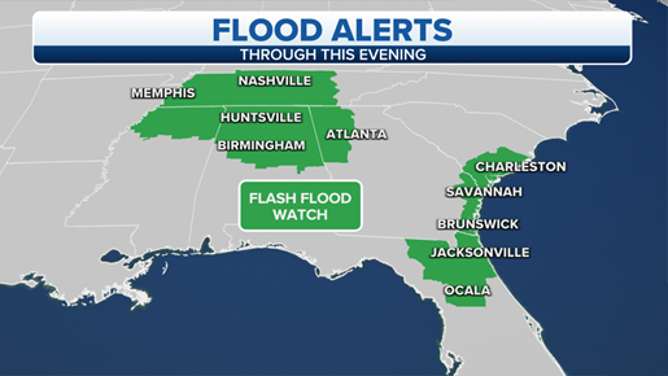 Numerous showers and a few thunderstorms are expected in these areas Monday. The rain could be locally heavy at times, which might trigger additional flash flooding, especially on roads and in low-lying areas.
Many spots in the Tennessee Valley and Southeast will receive another 1 to 3 inches of rain, but locally higher amounts of 3 to 5 inches are possible in any areas where showers and thunderstorms stall or move slowly.
Tuesday and Wednesday will bring additional rounds of showers and thunderstorms to many of these same areas. A cold front will finally move through the South Wednesday into Wednesday night, ushering in a drier air mass for the end of the workweek.