First true cold front of fall to bring severe storms, then sharp temperature drop in Midwest
Damaging winds will give way to plummeting temperatures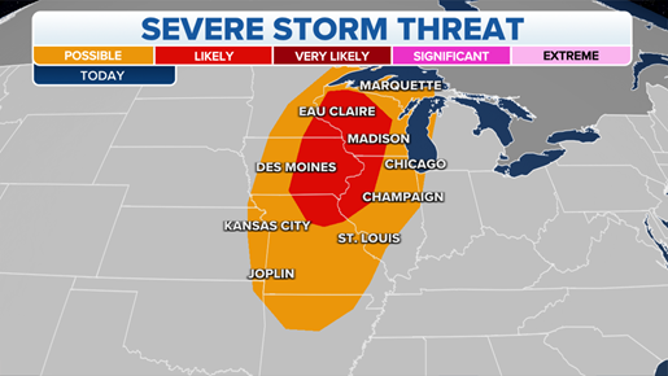 The first true cold front of fall will track eastward across the United States this week, first arriving in the Midwest on Monday with severe thunderstorms that will be followed by a sharp drop in temperature.
Scattered severe thunderstorms are expected from parts of the upper Midwest southward to the Ozark Plateau Monday afternoon and evening.
Some large hail is possible when storms initially develop, but damaging wind gusts should become the main threat through Monday evening. There's also an isolated tornado risk, mainly from southwestern Wisconsin into southeastern Minnesota and northeastern Iowa.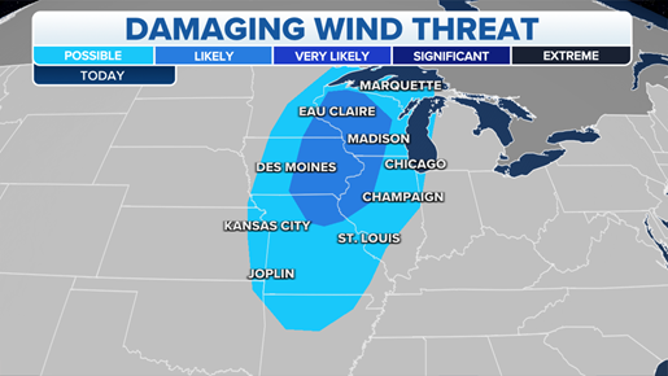 After the cold front moves through these areas, much cooler temperatures will arrive by Tuesday. Parts of the upper Midwest could have a temperature drop of nearly 20 degrees, with highs in the 70s Monday followed by highs in the 50s or lower 60s Tuesday.
The humidity will also fade away, causing pleasant afternoons that will give way to crisp, cool nights with a much drier air mass in place.
In fact, unseasonably cool temperatures have already spread across the Great Basin and northern Rockies, supporting high-elevation snow across parts of the northern Rockies over the weekend, as well as Freeze Watches and Warnings for parts of Wyoming and Colorado Monday night into Tuesday morning.
Portions of southwestern Montana, including Yellowstone National Park, reported 1 to 2 inches of fresh snowfall on Sunday.
On Tuesday, the cold front is forecast to continue its push eastward across the Great Lakes and into the lower Ohio and Tennessee valleys. Severe thunderstorms are not expected, but heavy rainfall with localized flash flooding is possible, especially from parts of the lower Ohio Valley northward into Lower Michigan.
The front will stretch from the eastern Great Lakes to the Southeast on Wednesday, then finally reach the East Coast by Thursday. Showers and thunderstorms will accompany the cold front, with additional areas of heavy rain and localized flash flooding likely.
The cooler temperatures and lower humidity will be felt across much of the East by the end of the workweek once the cold front pushes off the coast.