First snow of season ahead for Northeast, including Boston, on Wednesday
The Interstate 95 corridor in New England from Boston to Providence to Hartford is predicted to receive 1 to 2 inches of snow
The first snow of the season is ahead for many in the Northeast, including Boston, as a new storm system moves up the East Coast on Wednesday.
While snowflakes might have already fallen from the sky in some areas, there has not yet been an official measurable snowfall (at least 0.1 inches) to whiten the ground in Boston, New York City, Philadelphia or Washington.
WHEN CAN YOU EXPECT THE FIRST SNOW OF THE SEASON?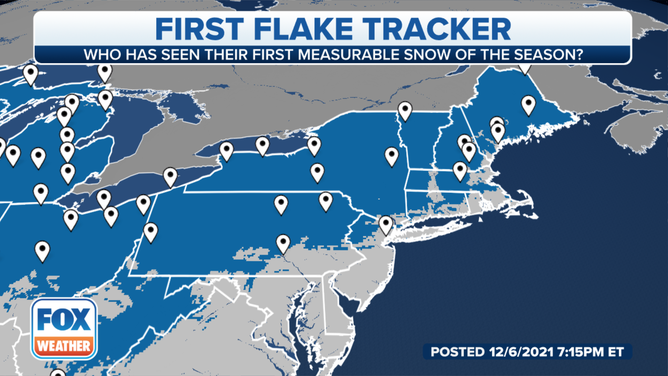 Boston has the best chance of accumulating snow on Wednesday among these major Northeast cities, but a few flakes are still possible in New York, Philly and D.C.
On Wednesday, an upper-level disturbance swinging through the Ohio Valley will produce some light snow showers as it approaches the Northeast and northern mid-Atlantic region. Meanwhile, a developing coastal low near the North Carolina coast will move up the Eastern Seaboard and rapidly strengthen east of New England by Wednesday night. 
However, these two features are not expected to combine and form a significant coastal storm, so any snow is likely to be on the lighter side.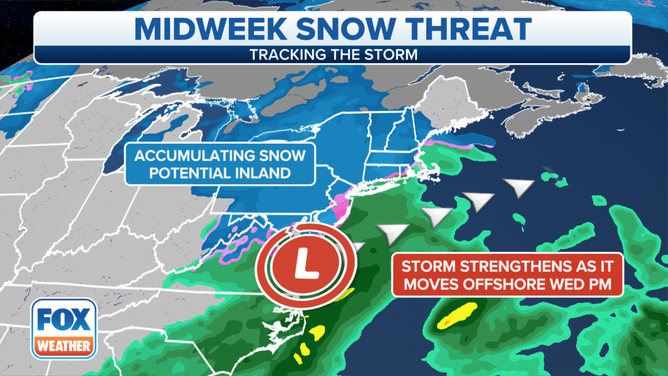 The Interstate 95 corridor in New England from Boston to Providence, Rhode Island, to Hartford, Connecticut, is predicted to receive 1 to 2 inches of snow from this system Wednesday into Wednesday night.
Similar light snowfall amounts are expected into northern New England and back to the west over upstate New York and the northern tier of Pennsylvania.
WHICH IS THE SNOWIEST MONTH OF THE YEAR?
There's still a risk for some light snow farther south along Interstate 95 from the New York City tri-state area to the Philadelphia metro area and the nation's capital. However, most places in this region will see less than a half-inch of accumulation, if anything sticks to the ground at all.
Downeast Maine will likely see the highest accumulations with this storm because it will be closest to the strengthening low-pressure system. Some spots in this region could pick up several inches of snow late Wednesday into Thursday morning.