First major winter storm of season brings heavy snow, whiteout conditions to Rockies
The highest elevations will receive 1 to 2 feet of snow through Wednesday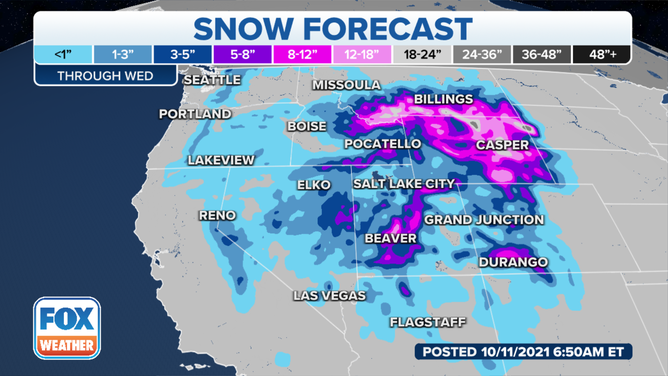 The first major winter storm of the season will bring heavy snow to the Rockies through Wednesday.
Snowfall arrived Sunday in the higher elevations of Washington and Idaho, where a general 1 to 4 inches was recorded. This storm will move eastward and ramp up Monday and Tuesday over the northern Rockies.
Winter Storm Warnings, Winter Storm Watches and Winter Weather Advisories have been issued through Wednesday morning in central and southern Montana, eastern Idaho, much of Wyoming, western Colorado, eastern Nevada and central and southwestern Utah.
The heaviest snow will fall in the Rockies of western Colorado and all elevations of southern Montana, Wyoming and southeastern Idaho.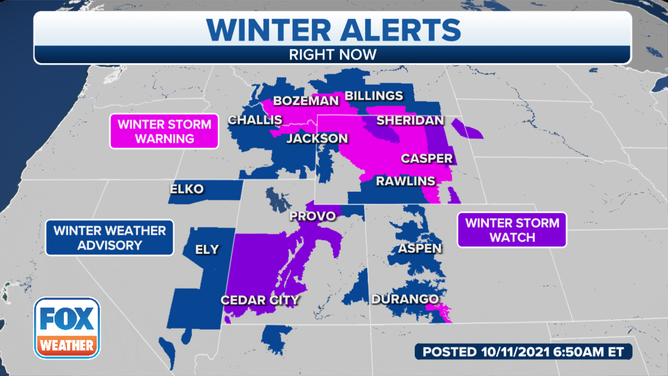 From 1 to 2 feet of snow is predicted in the highest elevations of those areas, with up to 1 inch per hour possible in the heaviest snows. Additionally, wind gusts of 35 to 45 mph will lead to whiteout conditions at times.
The region's major population centers, such as Denver and Salt Lake City, are predicted to see mainly rain with this system, though some snow is expected in the hills surrounding those cities.