Fire risk 'critical' for parts of central High Plains on Wednesday
At least one wildfire has already been reported in Colorado
Gusty winds and low humidity have led to forecasters issuing a "Critical Risk" for wildfires across parts of the central High Plains on Wednesday.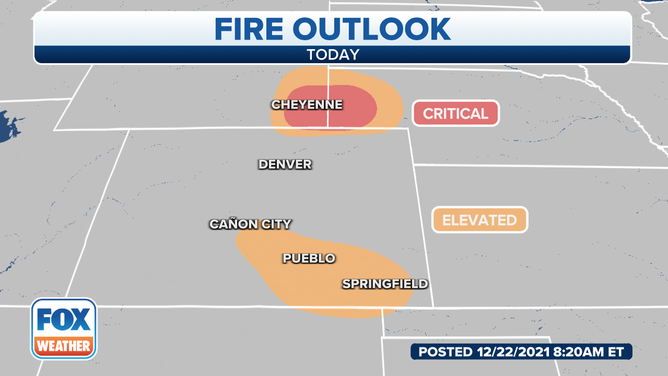 NOAA's Storm Prediction Center said extreme southeastern Wyoming, western Nebraska and parts of Colorado will see conditions that would allow for wildfires to quickly spread if any were to start.
As a result, Fire Weather Warnings are in effect until late Wednesday afternoon for areas including Sidney, Scottsbluff and Chadron, Nebraska. 
Parts of Colorado, including Fort Collins and Sterling, south to Canon City, are also under a Fire Weather Warning.
And as of early Wednesday morning, at least one fire has been reported on Blodgett Peak, which is west of the Air Force Academy near Colorado Springs.
Forecasters say sustained winds of at least 20 mph are expected near the Laramie Range in Wyoming, and that combined with 15% relative humidity would allow wildfires to spread quickly.
The risk is the same for parts of the Colorado Front Range, where 10- to 15-mph winds would combine with 10 to 20% humidity.
There's also an elevated risk for wildfires in parts of central and eastern New Mexico.