Fast-moving brush fire forces evacuations on Hawaii's Big Island
Moderate drought conditions exist over much of the islands
KAILUA-KONA, Hawaii – Firefighters battled a fast-moving brush fire on Wednesday afternoon, which triggered evacuations of homes and businesses on the western part of the island.
Witnesses said crews worked via the ground and had assistance from at least two helicopters that dropped water on the flames.
The Hawaii Emergency Management agency was monitoring the brush fire and said some roadways in the Kuakini Highway area in Kailua Kona were closed.
So far, officials have not said what they believe to be the cause or how many acres the fire burned.
The Hawaiian Islands have been dealing with increasing drought conditions since a pattern change in mid-January put the brakes on heavy rainfall.
WATCH: SIMULATION SHOWS HOW TONGA ERUPTION PRESSURE WAVE CIRCLES GLOBE MULTIPLE TIMES
According to the U.S. Drought Monitor, the area where the Kona blaze broke out is experiencing moderate drought conditions and increasing fire dangers.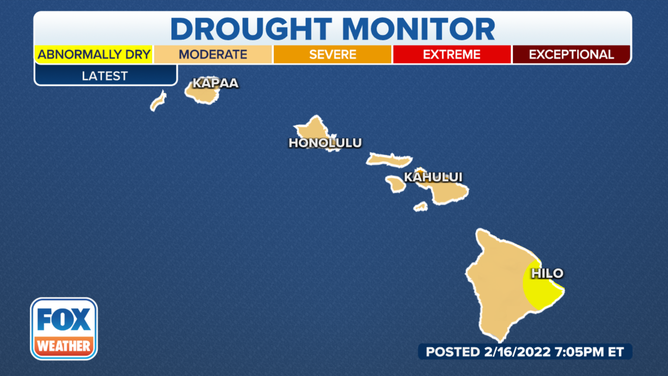 Typically, during moderate droughts, crop growth is stunted, and reservoir levels decline because of the lack of rain.
The long-range outlook from the Climate Prediction Center shows continued short-term drought development. However, climatologists said continued La Niña conditions should help the islands with increasing rainfall during the spring months.