Fall-like temperatures return to Northeast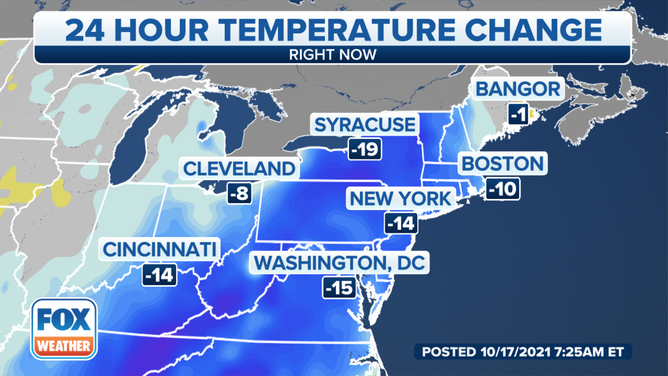 What a difference a day makes!
After unseasonably warm temperatures for the start of fall, cooler temperatures have made their way back into the Northeast.
A strong cold front moved through the region Saturday that set the stage for powerful thunderstorms. Trees and power lines were brought down across the region, but luckily no injuries were reported.
The National Weather Service said lingering showers would come to an end and cloud cover would clear out Sunday morning.
But just because the sun is out, that doesn't mean the temperatures will rise that much.
The Albany, New York, area will struggle to get out of the 50s on Sunday while lower 60s are possible over the mid-Hudson Valley. Temperatures will be in the mid-50s to near 60 across Vermont and northern New York.
By Monday morning, lows are expected to drop into the 40s in many locations.
Temperatures are expected to remain on the cooler side throughout the week before another warm-up arrives.