Fall heat accompanied by fire danger from northern Rockies, Plains to upper Midwest
Record highs are possible in Montana and North Dakota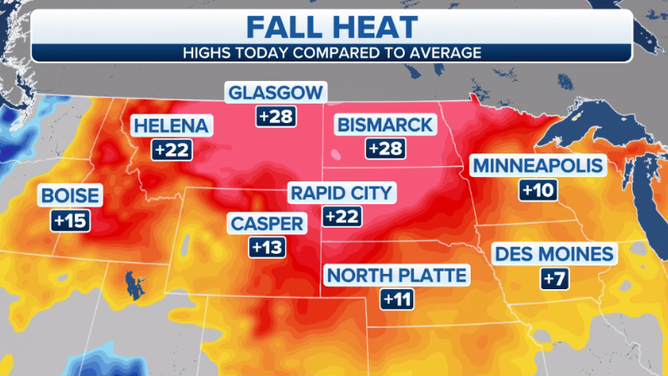 It will feel more like summer than fall from the northern Rockies and Plains to the upper Midwest through midweek, but the warmth will come with increased fire danger across the region.
High temperatures from Montana to Minnesota will remain summerlike Tuesday and Wednesday, reaching the 70s and 80s in most areas. These values are 5 to 15 degrees above average for early October.
A number of daily record highs are possible Tuesday afternoon, especially in Montana and North Dakota.
Cities that could threaten a record high on Tuesday include Billings, Montana (85 degrees); Bismarck, North Dakota (90 degrees); Great Falls, Montana (84 degrees); Helena, Montana (81 degrees); Missoula, Montana (81 degrees); and Williston, North Dakota (86 degrees).
A few more records could be challenged on Wednesday, including in Glasgow, Montana (85 degrees), and Williston, North Dakota (86 degrees).
A strong cold front will bring cooler air by Thursday, with highs dropping back into the 50s and 60s for much of this region.
Fire Danger
Warm, dry conditions are expected over Oregon, Northern California and much of Montana Tuesday and Wednesday. This, combined with gusty winds and low humidity values, will create elevated fire weather conditions.
Fire Weather Warnings have been issued for parts of Montana and northwestern North Dakota through Tuesday evening. A Fire Weather Watch is posted in southeastern Montana, northwestern South Dakota and portions of western North Dakota.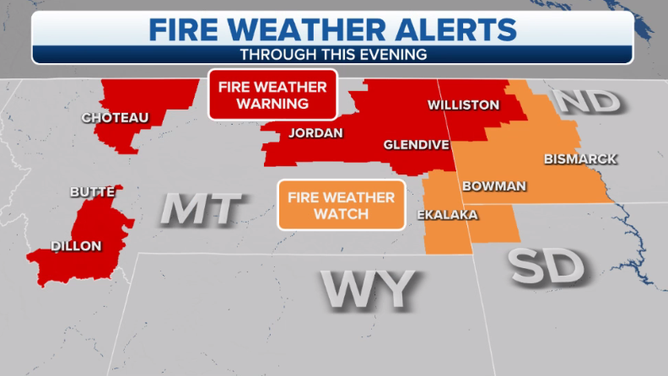 We are currently in the middle of this year's Fire Prevention Week campaign, sponsored by the National Fire Protection Association, which runs from Oct. 3 to Oct. 9.
Here are some wildfire safety tips from NOAA.