Excessive heat builds across US in wake of Henri, Tennessee flash flood
More than 57 million Americans are under heat alerts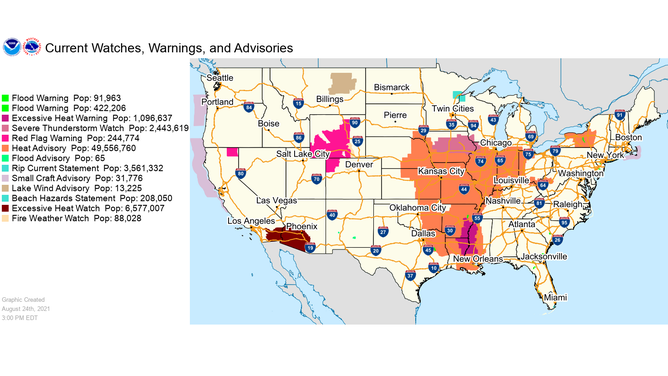 More than 57 million Americans are under heat alerts Tuesday as hot temperatures build across many parts of the U.S. this week.
The National Weather Service has issued heat advisories from parts of the Central and Southern Plains to the Mississippi and Ohio valleys, as well as portions of western and central New York. A small portion of northeastern New Jersey, including Newark, is also under a heat advisory. This is where the heat index, or feels-like temperature, is expected to approach or exceed 100 degrees.
Additionally, excessive heat warnings are in effect for southeastern Arkansas, northeastern Louisiana and western Mississippi, where the heat index is predicted to top 110 degrees.
Parts of the Desert Southwest from southeastern California to southwestern Arizona are under excessive heat watches due to forecast heat indices of 105 to 115 degrees later this week.
According to PowerOutage.us, more than 7,000 customers in Rhode Island and 4,000 in New Jersey were still without power Tuesday afternoon following flooding rains and gusty winds from Tropical Storm Henri over the weekend.
With extreme heat and humidity on the way, it will be difficult to stay cool in areas without electricity because there will be limited access to air conditioning, so there's a greater-than-normal risk for heat illnesses to occur. Be sure to drink plenty of fluids and stay out of direct sunshine as much as possible.
RECORD RAINS DRENCH NORTHEAST AS TROPICAL STORM HENRI PLOWS INLAND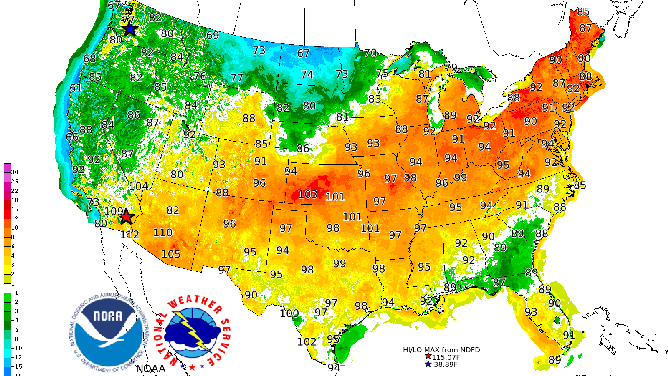 Recovery efforts are also ongoing in Middle Tennessee after catastrophic flash flooding inundated Humphreys County on Saturday. At least 22 people were killed.
More than 17 inches of rain fell in McEwen, Tennessee, an all-time 24-hour state rainfall record for the state. This area is not currently included in any heat alerts from the NWS, but highs around 90 degrees the next few days will make for uncomfortably hot conditions during the ongoing cleanup.
BIDEN APPROVES DISASTER DECLARATION FOR TENNESSEE AFTER DEADLY FLASH FLOOD
This heat wave across parts of the central, southern and eastern U.S. will be prolonged, persisting through much of the week.
In fact, the latest 6- to 10-day temperature outlook from NOAA's Climate Prediction Center suggests above-average warmth is likely to continue into the beginning of September, especially from the Plains to the Midwest and East Coast.