'Sister' ship to vessel that clogged Suez Canal runs aground in US one year later
While details on how the 117-ton ship run aground are unknown, the National Weather Service did issue a Low Water Advisory on Monday for the Chesapeake Bay
BALTIMORE – The same transportation company of a colossal cargo ship that once blocked the Suez Canal nearly one year ago, clogging one of the world's most vital waterways for nearly a week, is dealing with another ship aground.
The United States Coast Guard said they are working on a plan to safely refloat Ever Forward, a 117-ton loaded cargo ship that grounded Sunday night in the Chesapeake Bay near the Craighill Channel. 
Personnel from the Maryland Department of the Environment are also monitoring the 1,095-foot vessel currently stuck. 
The Hong-Kong flagged container ship, reported to be carrying general cargo, departed Baltimore on Sunday and was en route to Norfolk, Virginia, when it grounded.
The container ship is operated by the Evergreen Marine Corporation, and a "sister" of the Ever Given cargo ship that blocked the Suez Canal on March 23, 2021. It froze nearly $10 billion in trade a day while blocking the channel that is believed to handle about 10% of global commercial maritime traffic. It was considered an extraordinary event that experts said they had never heard of happening before in the canal's 150-year history.
While details on how the 117-ton ship run aground are unknown, the National Weather Service did issue a Low Water Advisory on Monday for the Chesapeake Bay, the largest inlet in the Atlantic Coastal Plain of the eastern United States. An ebb tide and a strong offshore flow created abnormally low water levels in the bay.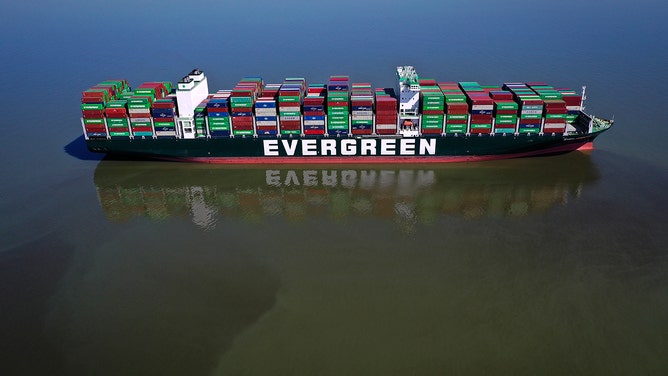 A Captain of the Port Order has been issued by the Coast Guard requiring the vessel's crew to conduct soundings of all tanks, bilges and voids every four hours to monitor potential pollution and report any noticeable change in stability, draft readings, vessel position or signs of an oil discharge. 
A 500-yard safety zone has also been enforced around the Ever Forward to ensure the safety of those on and around the vessel, as well as the safety of the marine environment during ongoing salvage operations.
HOW TO WATCH FOX WEATHER ON TV
The Ever Forward is not obstructing the navigational channel, the Coast Guard said, and there have been no reports of injuries, pollution or damage to the vessel.