Dozens of flights canceled near Seattle due to fog, 5G woes
Officials with Paine Field Airport in Everett, Washington say "roughly 30" Alaska Airlines flights were canceled on Monday, and more cancellations were expected through the week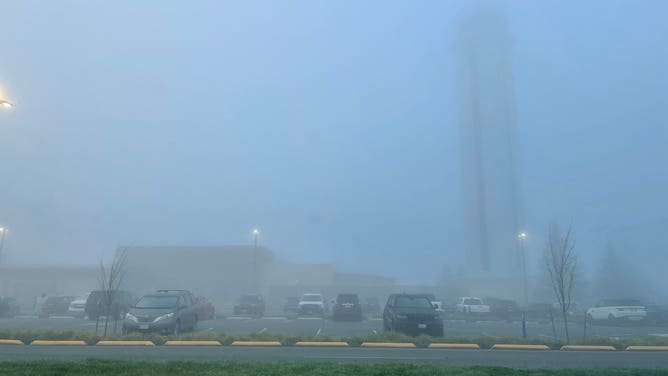 EVERETT, Wash. -- A persistent fog layer and the start of 5G wireless service has forced the cancellations of dozens of regional flights from an airport near Seattle.
Officials with Paine Field Airport in Everett, Washington, say "roughly 30" Alaska Airlines flights were canceled on Monday, and more cancellations were expected through the week, according to FOX 13 Seattle. Already the first four flights from the airport were canceled Tuesday morning as visibility remained below a quarter-mile.
"Unfortunately, our hometown carrier has had to cancel flights due to 5G and weather… This is out of our control, and we are as frustrated as you are," Paine Field tweeted on Monday.
The new 5G C-band, when deployed within two miles of an airport, interferes with vital flight technology used to navigate aircraft during challenging weather and low visibility. As a result, the Federal Aviation Administration (FAA) issued flight restrictions that limit the ability of some aircraft to land in certain weather conditions, according to Alaska Airlines, which currently operates the only flights out of Paine Field.
Alaska's Boeing and Airbus aircraft have been cleared for low visibility landings by the FAA. However, some regional jets have not yet been cleared at certain airports. They are still subject to restrictions on landing/takeoff during low visibility conditions that were put in place before the agreement to limit 5G.
This is causing cancellations, delays and diversions, according to Alaska Airlines.
"The bottom line is, this is outrageous," Brett Smith with Propeller Airports, which operates Paine Field, told FOX 13 Seattle. "Our cancellations are a direct effect of 5G."
Earlier in January, FAA officials released a buffer zone list of 50 airports, where wireless companies have agreed to turn off transmitters and make other adjustments near airports on the list for six months "to minimize potential 5G interference with sensitive aircraft instruments used in low-visibility landings."
The main airport in Seattle, Seattle-Tacoma International Airport, was on that list, but Paine Field was not.
"It is unfortunate that the appropriate government agencies have failed to adequately prepare for the 5G rollout and are now inconveniencing tens of thousands of people throughout the country," Smith said.
Cancellations could linger through the week; return later in winter
In the meantime, travelers are warned that flights from Everett may not be available for much of the week, with fog remaining in the forecast.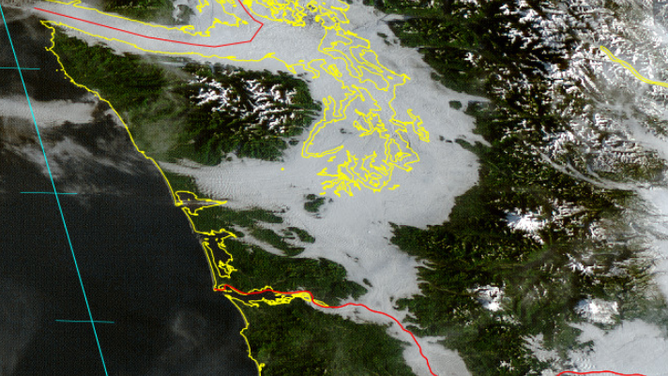 Winter-time inversions that lead to extended foggy periods are not unusual in the region. High pressure leads to clear skies and calm winds that allow nighttime temperatures to drop to the dew point, creating ground fog.
Colder air is denser than warmer air so it will pool near the ground. Sunshine during the day will warm the air above the heavier cold layer, creating a stable inversion where temperature rises with height. Temperatures at 5,000 feet elevation reached the mid-50s, while those at sea level were in the 30s in the fog.
And with little in the way of wind to mix warmer air to the surface, a thick and persistent fog will remain trapped near the ground and can last several days until another weather system can finally push the ridge away and whip up some wind to mix out the cold layer.
Alaska is allowing passengers to attempt to rebook flights out of Sea-Tac Airport, about 40 miles south of Everett and not subject to the 5G restrictions or change or cancel their reservations.
FOX 6 Milwaukee contributed to this report.