Super fog triggers deadly pileup involving 158 vehicles on I-55 near New Orleans
At least seven people were killed and more than two dozen were injured Monday morning when a layer of super fog blanketed a New Orleans interstate, triggering dozens of crashes as visibility dropped to zero.
ST. JOHN THE BAPTIST PARISH, La. – At least seven people were killed and more than two dozen were injured Monday morning when a layer of super fog blanketed a New Orleans interstate, triggering dozens of crashes as visibility dropped to zero.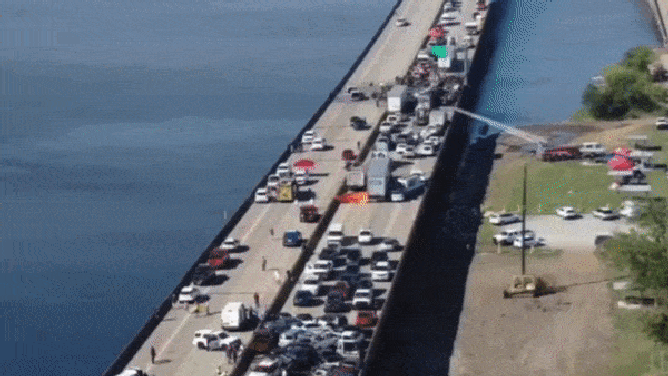 The initial crash happened in the northbound lanes just before 9 a.m., with about 18 tractor-trailers colliding between Ruddock and Manchac. Three of the semis became engulfed in flames, with fire spreading to other vehicles. Meanwhile, another multi-car chain reaction accident blocked southbound lanes. 
FOX 8 in New Orleans reported that there was also a third major pileup. The remainder of the accidents occurred near the major three. Authorities said that a dozen agencies were called in to assist and crews have even been called in on their days off.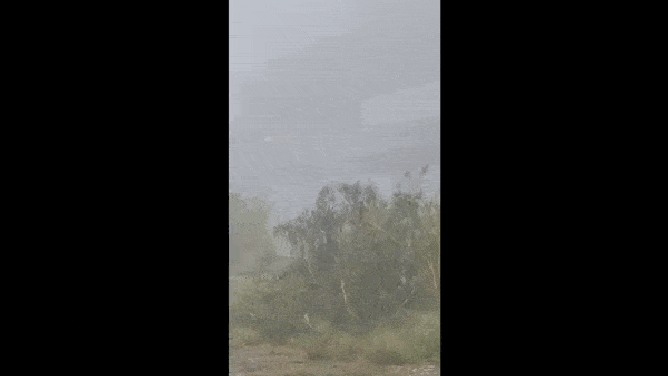 RAIN PROVIDES HOPE FOR LOUISIANA FIREFIGHTERS BATTLING HUNDREDS OF WILDFIRES AMID EXTREME DROUGHT
A preliminary investigation showed that at least 158 vehicles were involved in the morning crashes.  The death toll stood at seven as of Monday night while more than two dozen were reportedly taken to local hospitals.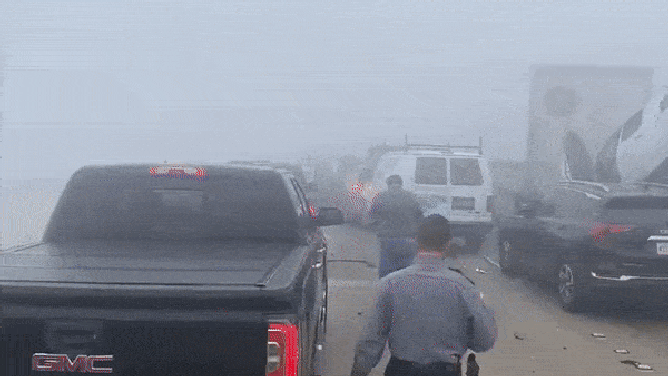 One eyewitness told FOX Weather he was taking his daughter to the airport when he had to stop suddenly to avoid the crash. 
He said that he couldn't see the cars ahead of him, and he noticed the stopped cars on GPS, then hit the brakes.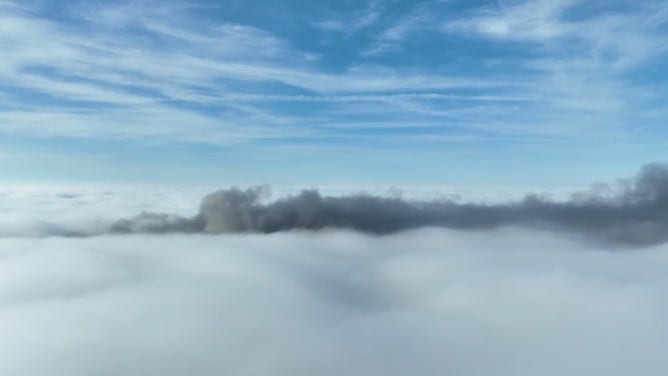 "I happened to be in a little pocket of about probably 15 cars with no damage," said Lance Scott. "And probably two or 3 seconds after we came to a stop, you just heard boom, boom, boom, boom, collision after collision behind us."
His daughter, an ICU nurse, jumped out of his car to help the injured for about two hours. Other victims checked on trapped drivers as well. 
"And all the paramedics started coming down southbound on the northbound lane and just kind of basically set up a little triage as they pulled over," said Scott. "They were taking some people on gurneys over the railing to ambulances, get them out of here."

 As both directions of the interstate closed, the Louisiana Department of Traffic Development reported an 11-mile backup.  The closure was still in effect Tuesday morning. 
Combination of smoke and fog lead to 'super fog'
The super fog layer was a combination of smoke flaring up from marsh wildfires that have been smoldering since July and a fog has been blanketing greater New Orleans for two days. Moisture was released from the damp, smoldering marshes and knocked visibility to below 10 feet.
The NWS issued Dense Fog Advisories for most of southern Louisiana and Mississippi. 
SURVIVORS RUSH TO AID VICTIMS IN 'CRUMBLED' CARS AFTER SUPER FOG CAUSES DEADLY PILEUP IN LOUISIANA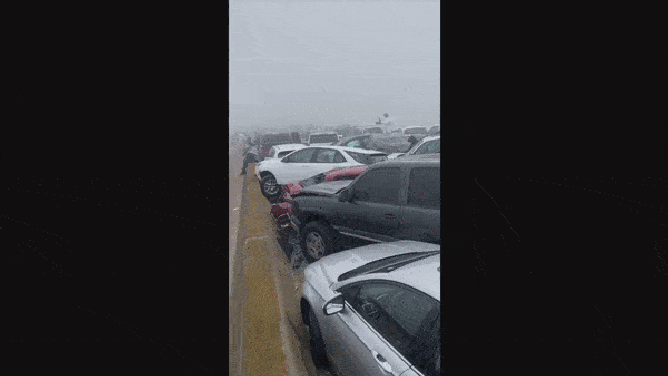 One vehicle pushed off the highway
Storm Chaser Brandon Clement told FOX Weather that first responders and emergency crews had a large tent with portable restrooms and a communications center to stage the recovery and cleanup.
Fire trucks had to pull up to the base of the elevated roadway and extend ladders into the air against the elevated roadway to reach the accident and victims.
FOG, SMOKE LIKELY TO BLAME FOR 'MASS CASUALTY' CRASHES INVOLVING AT LEAST 17 VEHICLES ON I-95 IN FLORIDA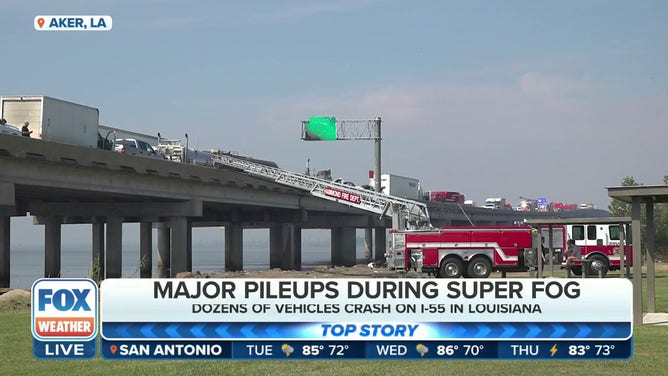 SMOKE, FOG CAUSE MASSIVE 20-VEHICLE WRECK ON TEXAS HIGHWAY
His photos showed a pickup truck wedged under a Ford F-150 truck. He said he smelled burned rubber and could hear burning tires popping.
At least one vehicle was pushed over the rail of the elevated highway, according to the sheriff. The driver and passengers were injured but are still alive.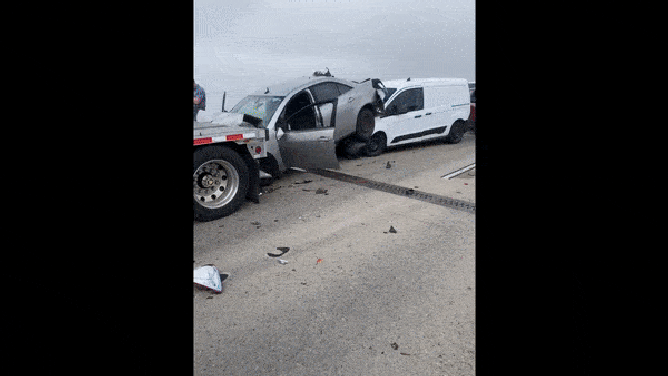 ONE KILLED IN OREGON AFTER 60 VEHICLE CRASH IN SUPER FOG
"I just don't know how, the way that this interstate set up being elevated over water with no crossovers, how you get the wreckers in here to start pulling these vehicles off to the side of the road to create a pathway for the vehicles to move forward," Scott said, fearing he would be there for several hours.
Louisiana's DOTD also closed I-10 on the southern shore of Lake Pontchartrain in both directions for hours, diverting drivers onto I-310. There were several accidents reported near that intersection in very low visibility.
Several schools in the area already announced a delayed start time for Tuesday as the dangerous fog and smoke combination is forecast to reform overnight.
The Louisiana State Police reported on social media that "I-55 is expected to be closed for the forseeable future." Troopers are notifying families of victims and investigating the exact causes of the crashes. The DOTD is inspecting the roadway and bridges and attempting to clear "extensive debris."