Videos show the fight against flooding DC faces
D.C. saw 176% of its normal precipitation from July through mid-August
WASHINGTON – Wash, rinse, repeat is a typical line found on haircare products, but for some businesses and homeowners in the nation's capital, it is also the phrase they are using to describe the clean-up process after three flash flood events in recent weeks.
District Dogs, an animal daycare facility located along Rhode Island Avenue in Washington, D.C., is one of the businesses where its operators and owner have documented each event and are pleading to the city for relief.
"It's terrifying to know that when these events happen, there is little we can do," said Jillian Kuehn, a district manager at District Dogs.
Each of the flooding events has seemingly been more impactful than the previous, with the most recent event on August 10 piling feet of water against the business' front door.
HOW TO WATCH FOX WEATHER ON TV
Despite doors and windows being shut, the water finds ways to seep into the business, causing issues.
"Every time this happens, we have to drag out the fans to dry out the place. We are a small business and have had to temporarily reduce services for our customers," Kuehn said.
The rain events on July 16, August 4 and August 10 contributed to the D.C. metro area seeing 176% of its normal precipitation over the last six weeks but having a nearly weekly occurrence of flooded basements, roadways and water rescues has some looking for solutions.
Before the most recent weather event, DC Mayor Muriel Bowser pledged the city would take immediate and bold action against climate risks, but some say the efforts might be too slow in the pipeline.
"They've told us there is a tunnel project that will be under construction into 2023, but that doesn't do us or our neighbors any good until then," Kuehn said.
Flooding is part of bigger problem
In addition to flooding seen the city's residential and commercial zones, the National Park Service says historic monuments are on land that is sinking and are under threat.
The Tidal Basin was created in 1882, but each year rangers say land that serves as a protection zone is lost to the Potomac and Anacostia rivers.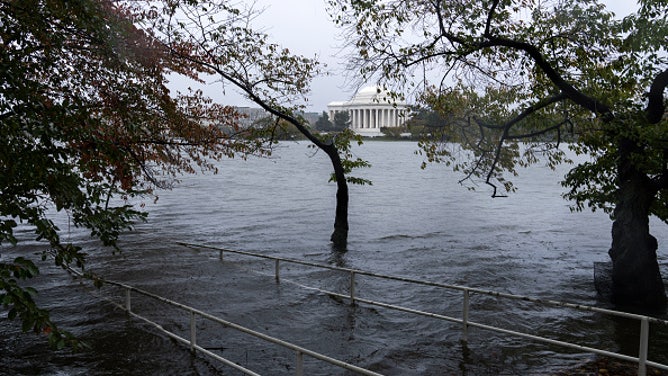 The areas that have seen the biggest impacts are around the Dr. Martin Luther King Jr. Memorial and the iconic Reflecting Pool.
Several organizations are working on responses to the ongoing flooding concerns including the National Capital Planning Commission, but officials say there is not an easy fix.
"No one solution can eliminate the potential problem entirely, but a strategic combination, weighed by the costs and benefits, could help minimize the risk by lowering the frequency and magnitude of flooding that does occur," authors of National Capital Planning Commission report on flooding and stormwater stated.