Feet of water strands cars, businesses during rush hour in nation's capital
DC Fire and EMS reported water rescues happened during rush hour north of the Capitol Building
WASHINGTON, D.C. – Several inches of rain on Wednesday during the height of the rush hour halted travel in the nation's capital as first responders attended to water rescues where streets resembled rivers.
Slow-moving storms through northern Virginia, D.C. and Maryland dumped at least 3 inches of rain during a period of only two hours causing the National Weather Service to issue Flash Flood Warnings for most of the region.
One of the many water rescues happened not far from the Capitol Building along Rhode Island Avenue.
DC Fire and EMS said they prepared to launch an inflatable raft but were able to get the victim safely out of the stranded vehicle with a team of firefighters.
HOW TO WATCH FOX WEATHER ON TV
A witness of the flash flooding took video of water rising outside a dog daycare.
"This is almost halfway up the door," Jacob Hensley tweeted.
The water was estimated by residents to be upwards of three feet deep on some roadways around the Catholic University of America.
The NWS received reports that the floodwaters entered several businesses.
The wet weather also caused problems at nearby airports.
Both Ronald Reagan Washington National and Washington Dulles International reported delays that averaged around five hours.
'TURN AROUND, DON'T DROWN': FLOOD FATALITIES IN US HIT 5-YEAR HIGH IN 2021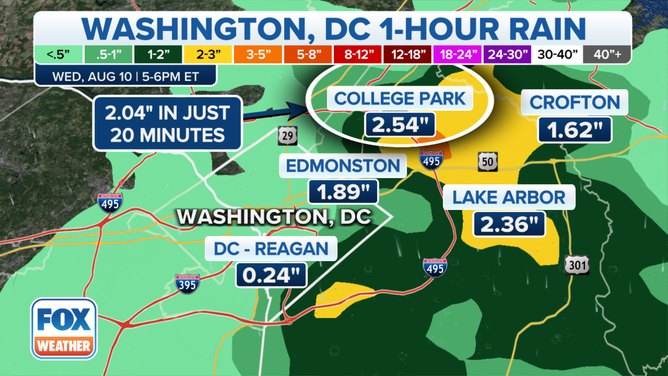 Radar analysis from the FOX Forecast Center showed some areas received more than two inches of rain in just 20 minutes. The hourly rainfall rate was estimated to be at around 6.12 inches, enough to overwhelm even the best drainage systems.
Total rainfall accumulations ranged from three to five inches from D.C. to the suburbs south and east of the city.
The NWS reminded motorists to never drive on flooded roadways and to stay away from basements and rooms that are below street level due to the threat of rapidly rising water.