Lightning from the heavens: Religious symbols not immune to acts of Mother Nature
Crystal Clevenger recently took a photo of a lightning bolt striking no too far away from Let Love Farm in Plain City, Ohio.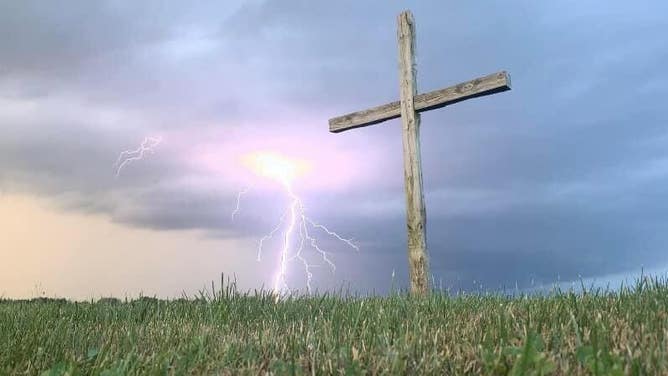 Religious sites are often considered a safe haven from danger, but when storms come knocking, even Mother Nature can prove there is no escaping her wrath.
A photograph recently taken by Crystal Clevenger in central Ohio serves as a subtle reminder.
The photo shows a lightning strike not too far away from a cross at Let Love Farm, a non-profit whose mission states is devoted to connecting people to God's peace through the caring of animals.
The cross appeared unscathed from the approximately 36,000-degree bolt, and it continues to stand over the fields of the Buckeye State.
Religious symbols don't always get a pass from the weather, as worshipers at a church outside of Cincinnati found out several years earlier.
On June 14, 2010, a famed six-story-tall Jesus statue burned down to the metal fame after being struck by lightning.
The storm's impacts gained worldwide attention as onlookers stopped along Interstate 75 to see the plastic foam structure ablaze.
HOW TO WATCH FOX WEATHER ON TV
The gigantic statue was replaced with what the Solid Rock Church says is a more fire-resistant sculpture that they hope will withstand any future act of divine intervention.
The statue's viral sensation has come and gone, but that is not the case for a famous figure in Brazil that has seen similar weather-related issues.
The "Christ the Redeemer" statue in Rio de Janeiro is a popular symbol in Christianity and welcomes nearly 2 million visitors a year.
In addition to being an attraction for humans, the 125-foot Jesus statue has proven to be a conductor of electricity.
Brazil's National Institute for Space Research estimates lightning strikes the giant monument six times a year.

DEBUNKING 7 MYTHS ABOUT LIGHTNING
Because of its concrete composition and lightning rods, damage has not been as significant as with other statues, but occasionally it has had to undergo repairs for wear and tear.
The Associated Press reported the stature underwent a refurbishment in 2014 to fix the statue's fingers and head after lightning damaged the then 83-year-old wonder of the world.
The damage scenes from around the world shouldn't be a surprise, an estimated 8.6 million lightning bolts strike the ground each day.
With the amount of electricity in the atmosphere, it means no one is immune from the forces of Mother Nature.