Critical fire danger Monday for Southern Plains then dangerous cold midweek
Parts of Texas, New Mexico and Oklahoma are in for weather extremes this week. Watch for critical fire weather on Monday then lows in the single digits midweek.
Gusty winds, warm temperatures and low relative humidity -- a combination putting parts of Texas, New Mexico and Oklahoma at high risk for wildfires Monday. The Storm Prediction Center highlighted the area forecasted to be under "critical fire weather conditions".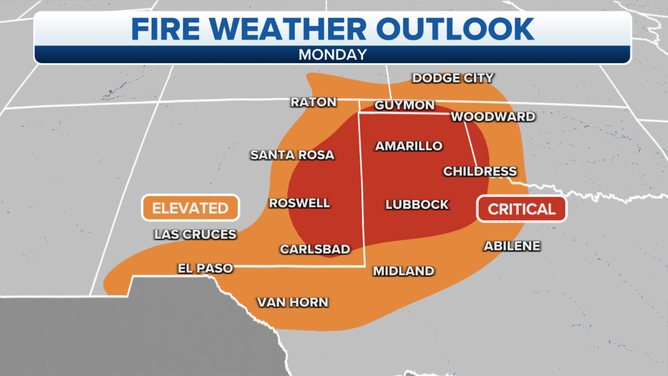 Temperatures are 10-20 degrees above normal for this time of year and the relative humidity will fall to 5-15%. Any spark or flame caught by winds blowing out of the Southwest 20-30 mph and gusting up to 45 mph could quickly spread into a large wildfire. Plus, brush and trees are critically dry due to drought stated the National Weather Service (NWS) stated in their fire warning.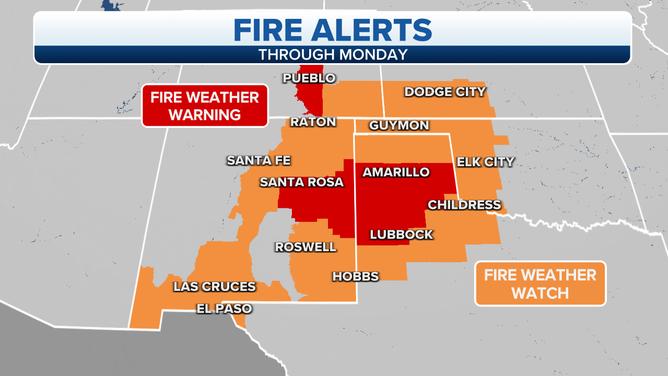 Fire to ice
 A cold front moving across the area Tuesday and Wednesday will then knock temperatures down and create dangerously cold wind chills across the Oklahoma and Texas panhandles said the National Weather Service.
Guymon, Oklahoma – Monday's high 75 drops to 31 on Wednesday
Lubbock, Texas – Monday's high 74 drops to 37 on Wednesday
Amarillo, Texas – Monday's high 72 drops to 33 on Wednesday
Low temperatures will range from the single digits to the teens Wednesday and Thursday mornings.  

Not much rain relief
Despite the cold front, the area is only expecting a chance of freezing rain and snow. Precipitation would be welcomed by a region classified by the National Drought Monitor as in extreme drought.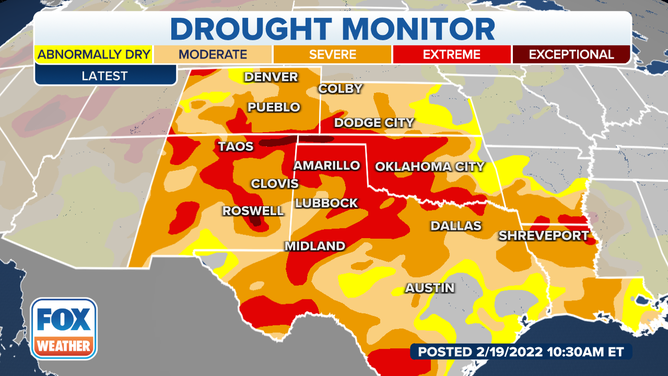 Extreme drought, NOAA explains contributes to or causes major crop and pasture losses, extreme fire risk, and widespread water shortages. . 
How much of the state is in extreme drought?
Oklahoma – 48%
New Mexico – 30%
Texas – 24%
The recent Drought Monitor report pointed to Texas where 77% of topsoil moisture and over 60% of oats, winter wheat, rangeland and pastures were rated poor to very poor.