Crews now working to extinguish 2 wildfires in North Carolina
At least 30 firefighters were working to extinguish a second fire on Pogue Mountain, about two hours to the southwest of the Grindstone Fire on Pilot Mountain
Just as fire crews were getting a handle on the Grindstone Fire on Pilot Mountain in North Carolina, firefighters responded to reports of a second fire that broke out on a mountain about two hours to the southwest.
The second fire, which began on Pogue Mountain in Marion, has already burned about 50 acres.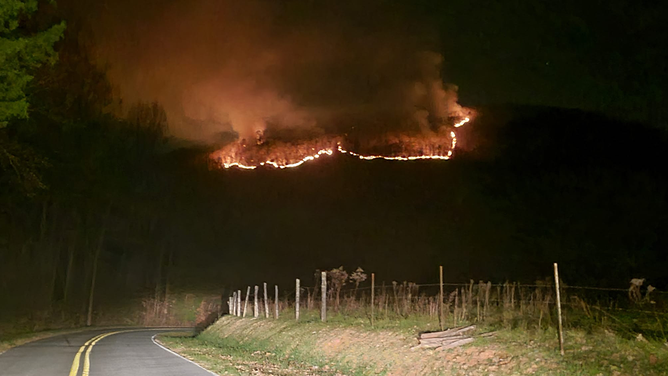 Fire officials in McDowell County said crews have been working since Tuesday night to control the fire. At least 30 firefighters were called to the scene and at least one helicopter was assisting in the firefighting efforts.
Crews will continue to work throughout the day Wednesday to stop the blaze from spreading, and they have been busy constructing additional containment lines. But work has been slower as firefighters face incredibly rugged terrain that is only accessible by foot.
So far, no buildings have been impacted and no injuries have been reported.
It's unknown how this fire began.
Grindstone Fire on Pilot Mountain
This is now the second fire that crews are working to extinguish.
The Grindstone Fire on Pilot Mountain just outside Winston-Salem began Saturday. Officials say it started from a campfire in an undesignated area. It quickly grew to more than 100 acres less than 24-hours after it began, forcing state officials to close Pilot Mountain State Park until further notice.
Firefighters raced up the mountain to try and contain the blaze, but it continued growing. Between Sunday night and Monday morning, the fire grew by 75 acres. And by Monday afternoon, it grew even larger, burning 500 acres in total.
As of Wednesday, officials said the fire had burned more than 1,000 acres and was only 50% contained. However, the blaze was within the containment lines.
"We used a bulldozer to go through and open up some original trails that were there, and then we went behind with leaf blowers and chainsaws to clear any debris that may burn or roll down if the fire does come through," firefighter Brandon Webb told FOX Weather Multimedia Journalist Will Nunley on Wednesday.
Webb said they used the leaf blowers to open up about a 20-foot area to try and keep the fire from escaping and crossing the containment lines.
And because of the increased fire risk in the state, the North Carolina Forest Service issued a ban on all open burning and canceled all burning permits statewide until further notice.
"It is fall wildfire season in North Carolina, and we are seeing wildfire activity increase due to dry conditions," said North Carolina Agriculture Commissioner Steve Troxler. "With these ongoing conditions, a statewide burn ban is necessary to reduce the risk of fires starting and spreading quickly. Our top priority is always to protect lives, property and forestland across the state."
The ban prohibits all open burning in the affected counties, regardless of whether a permit was previously issued.
Officials said the fire was caused by humans, although the exact cause has yet to be determined.
And while people living in the area say seeing the fire is heartbreaking, no buildings have been destroyed and no injuries have been reported.
The last time the state of North Carolina saw a fire this large was in 2012.