Cooler temperatures bring frost, freeze alerts to parts of the Southeast
Cooler temperatures will move to the east overnight into North and South Carolina
Frost advisories and freeze warnings were issued for parts of Georgia Monday morning as temperatures in the region dipped into the 30s.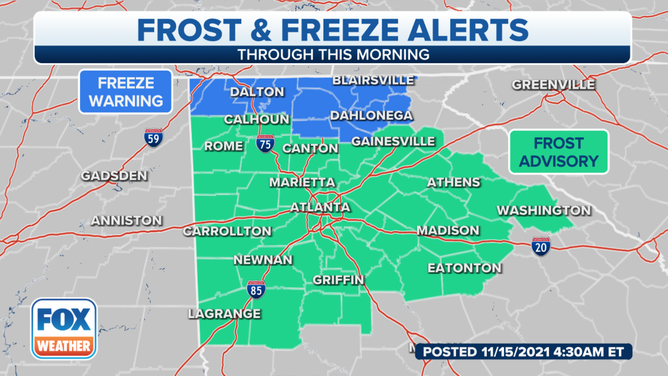 The National Weather Service issued frost advisories for central, east-central, north-central, northeast, northwest and west-central Georgia in advance of the cooler temperatures, which were expected to drop to as low as 32 degrees in those areas.
Those advisories were set to expire at 7 a.m. as temperatures will begin to climb throughout the day.
A bit further to the north, freeze warnings were issued for portions of north-central, northeast and northwest Georgia as temperatures drop to as low as 27 degrees.
However, those warnings were also set to expire at 7 a.m. as the temperatures begin to rise.
The cooler temperatures will move to the east overnight into North and South Carolina, where more frost and freeze alerts were issued.
A frost advisory is in effect from 3 a.m. until 8 a.m. Tuesday for Cumberland and Sampson counties, which includes the cities of Fayetteville, Spring Lake, Hope Mills, Clinton and Roseboro.
A freeze watch was issued for a wider area of North Carolina and even includes two counties in South Carolina where temperatures could drop to below freezing overnight into Tuesday morning.
The freeze watches are in effect for Marlboro and Dillon counties in South Carolina and Robeson, Bladen, Columbus, Inland Pender and Inland Brunswick counties in North Carolina from late Monday night into Tuesday morning.