Conditions improve in Cabo San Lucas as Tropical Storm Olaf moves north
Olaf expected to move away from land Friday night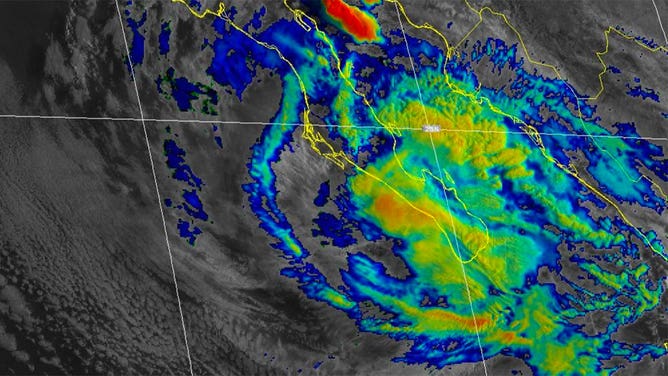 Tropical Storm Olaf, in the Eastern Pacific Ocean, has made for a less-than-idyllic day Friday in a tourist hotspot.
As of the 9 a.m. Mountain time advisory, Olaf was centered 65 miles west of La Paz, Mexico, with winds of 70 mph. It was moving northwest at 10 mph.
Tropical storm warnings have been issued for the southern Baja Peninsula. Cabo San Lucas, a popular tourist destination, is included in the warnings.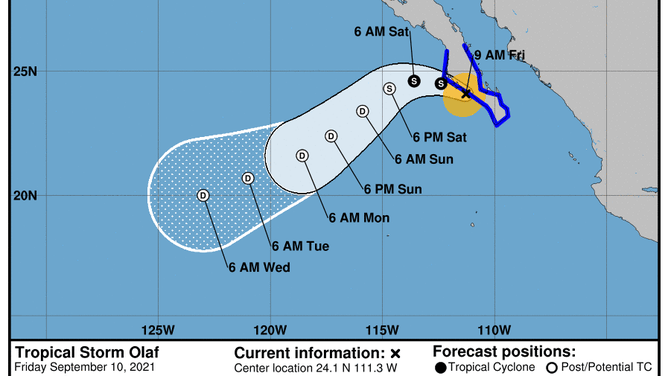 Images from a live camera Friday morning at a Cabo resort showed gray skies and damp conditions with rough surf along the beach. By late Friday morning, sunshine could be seen poking through the clouds with very little rain falling. Breezy conditions and rough surf could still be seen.
Jacqueline Sarkissian, a reporter at FOX 5 San Diego, said she and her husband were on their honeymoon in Los Cabos when Olaf hit. She shared this video on Twitter.
Okay I'm back… we lost power for 16 hours and it finally came back on. My husband and I had to switch rooms to a lower level for safety. This is what I saw right before power went out pic.twitter.com/DOUWCi2h6I

— Jacqueline Sarkissian (@JSarkissian) September 10, 2021
Forecasters said as much as 10 inches of rain could fall along Olaf's path, which is hugging the coast of the southern Baja Peninsula on Friday. Up to 15 inches is possible in some places.
The forecast calls for Olaf to move away from land starting Friday night, but rip currents will continue to be a problem along the coast through the weekend.