Conditions for 125th Boston Marathon to be cloudy, mostly dry
Monday marks the first time in race history that the Boston Marathon isn't held in April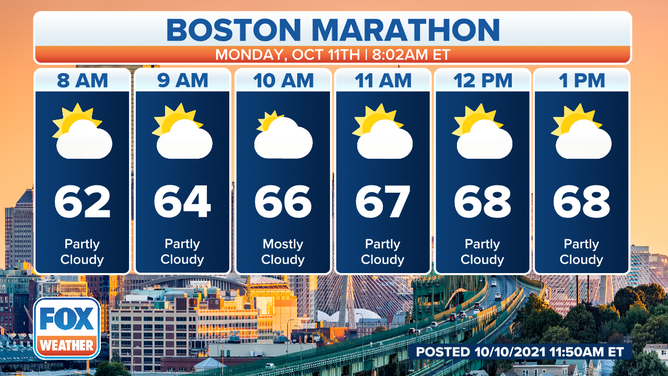 BOSTON - Thousands of runners will take their marks at the starting line of the 125th Boston Marathon on Monday morning.
The start time for the race, which begins in Hopkinton, Massachusetts, is just after 8 a.m.
Temperatures will hover around 60 degrees for the start of the race and will gradually climb into the mid to upper 60s by Monday afternoon, but it will be partly to mostly cloudy.
There's the chance for some spotty showers, but most of the day should remain dry to the relief of the runners.
This is the first time in race history that the Boston Marathon won't be held in April.
From 1897 until 1968, the Boston Marathon was held on Patriots' Day – April 19. Patriots' Day is a holiday that commemorates the start of the Revolutionary War and is only recognized in Massachusetts and Maine. If April 19 fell on a Sunday, the race was held the following day.
In 1969 the holiday was officially moved to the third Monday in April, and the Boston Marathon has been held on that day ever since.
However, because of the coronavirus pandemic in 2020, the race was postponed until September and ultimately held virtually. 
The 2021 Boston Marathon will be the first time in race history that it's not being held in April.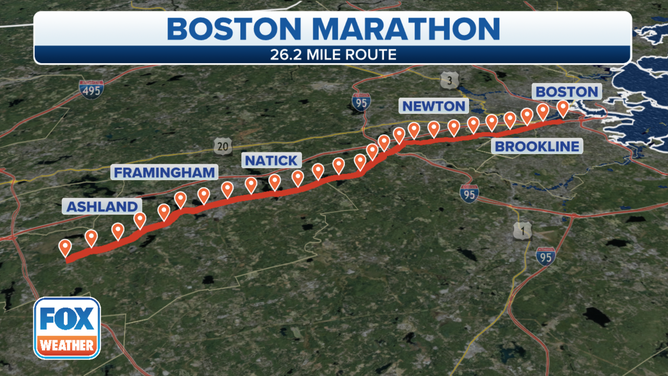 Boston Marathon Weather History
If the race distance and elevation changes weren't challenging enough for runners, the weather has been pretty harsh for participants in the past.
In 1961, snow squalls driven by winds of 10-12 mph were reported with a temperature of 39 degrees.
2018 was a miserable year for runners. There was driving rain, winds that gusted over 45 mph and temperatures hovered in the low 40s.
But it hasn't always been cold, snowy and rainy.
In 1905 the temperature was reported to have reached 100 degrees. Temperatures were about 96 degrees in 1976 and nearly 90 degrees by mid-day in 2012.