Coldest temperatures in nearly 4 months arriving in the Northeast
Temperatures will fall to levels not seen since early June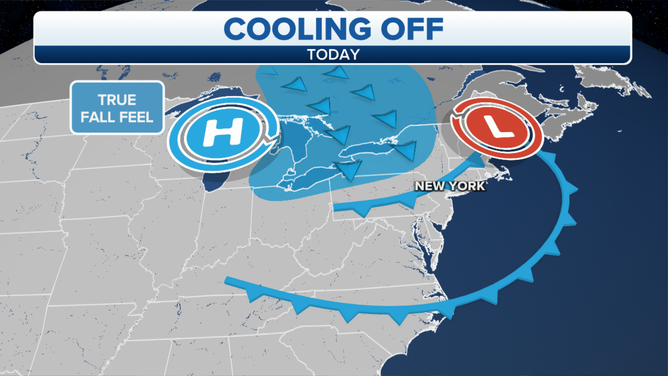 A true fall air mass is arriving in the Northeast in the wake of a cold front this week, with some locations seeing their coldest temperatures in nearly four months.
The cool air has already arrived in New England and upstate New York. Parts of the Adirondacks and the Tug Hill Plateau in central New York had their first freeze of the season Tuesday morning, while frost was reported in portions of the western Catskills as temperatures dipped into the mid-30s.
High temperatures Wednesday across the Northeast will mostly hold in the 60s, though a few spots in northern New England and the High Peaks of the Adirondacks will likely get stuck in the mid- to upper 50s.
Another chilly night is expected Wednesday night as many locations will drop into the 40s. Lows in the 50s are expected along the Interstate 95 corridor from Boston to New York City and Philadelphia.
However, in the highest peaks of the Adirondacks, Green Mountains of Vermont and White Mountains of New Hampshire, there might be some snowflakes in the air for the first time this season. This would be at elevations over 4,000 feet, where temperatures will fall into the 30s overnight.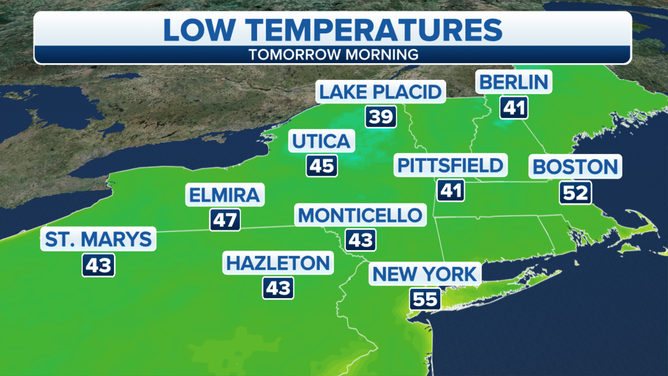 Thursday will be the coolest day of the week in the Northeast. Highs will only be in the 50s in much of New England and upstate New York, with some of the highest elevations in the mountains likely stuck in the upper 40s during the day.
New York City and Philadelphia will have highs in the mid- to upper 60s Thursday afternoon. June 11 was the last time Philadelphia failed to reach 70 degrees – nearly four months ago – while New York City last held in the 60s about three months ago on July 3.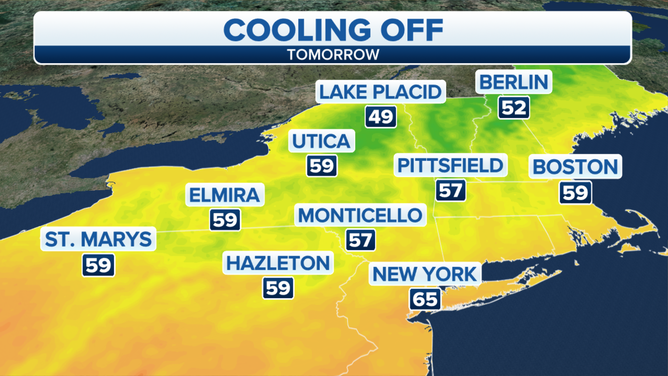 A slight warming trend is expected Friday into the weekend, with temperatures returning closer to average for early October.
Long-range forecasters at NOAA's Climate Prediction Center predict that temperatures will rise above average again during the first full week of October, so this crisp air is not expected to persist for very long.