Coldest air of the season to invade the Northeast this week
Wind chill values are expected to be below zero this week
Arctic air that's been delivering bitterly cold temperatures and dangerous wind chills in the Northern Plains and Great Lakes will begin to shift east this week, setting its sights on the Northeast and New England.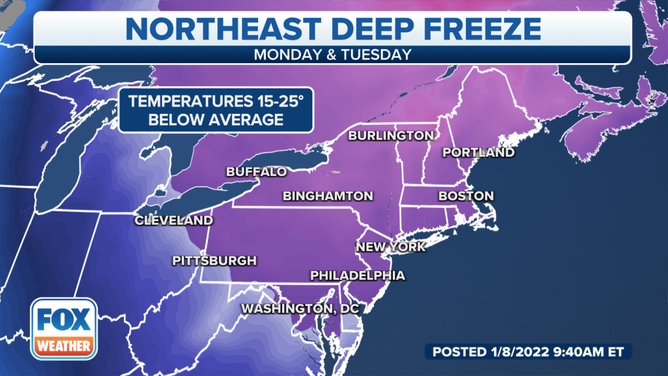 By Tuesday, temperatures are expected to be 15-25 degrees below average from the northern mid-Atlantic across the Northeast and New England.
That means places like Boston and New York City will likely experience high temperatures only in the teens, while further north into Vermont, New Hampshire and Maine will likely stay in the single digits.
Sunday will be the last day of temperatures across the region in the 40s for at least the next several days.
Temperatures will start to plunge on Monday, with many areas in the Northeast remaining in the teens and 20s until at least the middle of the week. Northern New England will likely be the coldest, with temperatures remaining below 20 degrees on Monday.
Further south in Boston and New York City, temperatures will stay below freezing as those areas will be in the upper 20s.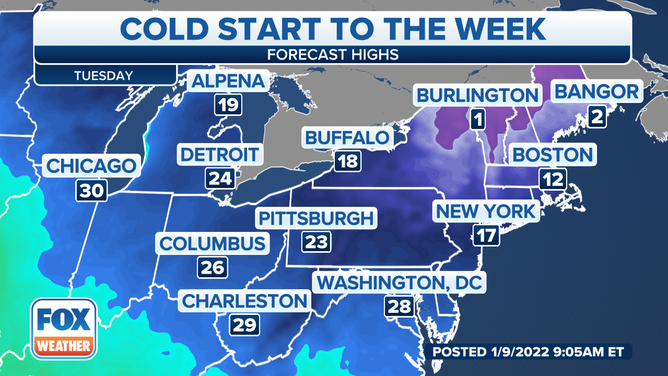 Tuesday will likely be even colder, with most areas staying below 20 degrees. Add in some gusty winds, and it will feel even colder. Areas of northern New England, like Bangor and Burlington, will stay in the single digits and hover around zero degrees. 
Boston will be bitterly cold, with temperatures expected to stay around 12 degrees. The same situation will occur in New York City, where temperatures are expected to be around 17 degrees.
The rest of New England and northern mid-Atlantic will remain below freezing.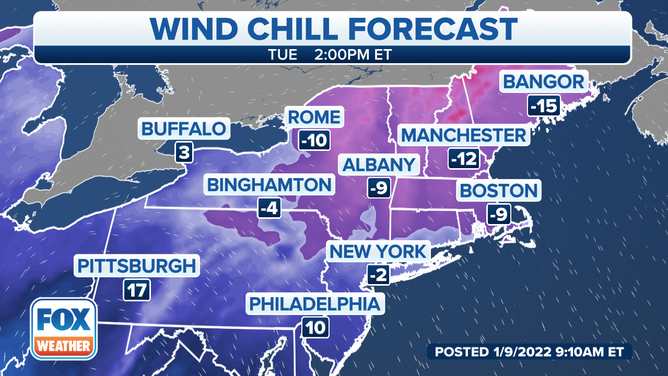 Gusty winds are expected to accompany the bitterly cold air across the Northeast, which will create wind chill values well below zero starting on Tuesday from New York City to northern Maine.
It will feel like -10 degrees to -15 degrees in Maine, New Hampshire, Vermont and New York.
Boston will feel the chill, too, as wind chill values there could reach nearly -10 degrees.
Even New York City will feel below zero on Tuesday afternoon.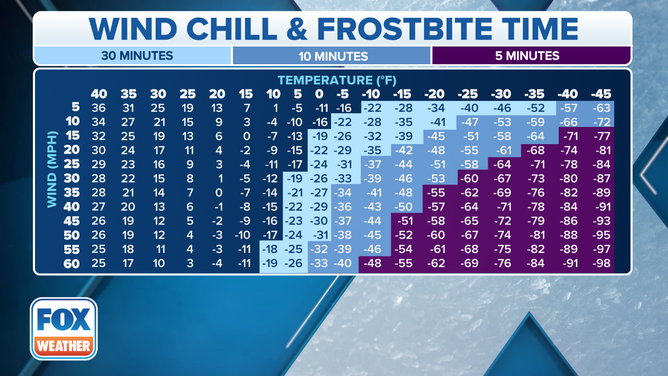 Anyone preparing to head outdoors through at least the middle of the week should take precautions to protect themselves from the cold temperatures and gusty winds.
Frostbite could set in quickly, so people in those regions should limit their time outdoors.