Colder air settles in briefly along East Coast before another warm-up
Temperatures will start to rebound as warmer air pushes in Saturday and Sunday for most of the eastern part of the country
Much colder air has arrived in the East and expanded across the Deep South on Saturday sending temperatures about 5 to 15 degrees cooler than in previous days.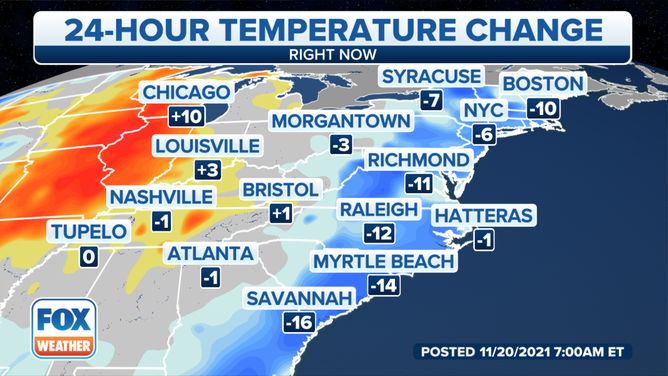 Freeze Warnings were up for Central Alabama and Frost Advisories were posted for parts of South Carolina and Georgia as temperatures dropped to near freezing Saturday morning.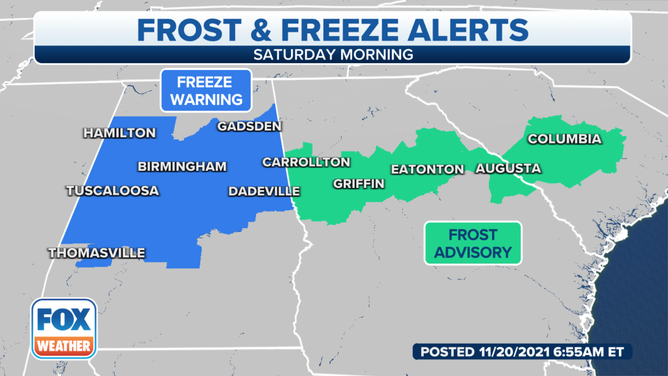 Temperatures will start to rebound as warmer air pushes in Saturday and Sunday for most of the eastern part of the country.
PRE-THANKSGIVING STORM WILL BRING RAIN, SOME SNOW TO NORTHEAST, MIDWEST
There are a couple of systems to look at the Thanksgiving week, but at least Saturday and Sunday, things look a little tranquil. Going into Sunday afternoon, we could have near 60-degree temperatures for Raleigh, North Carolina, low 70s in Savannah, Georgia, and back in the mid-50s for New York City.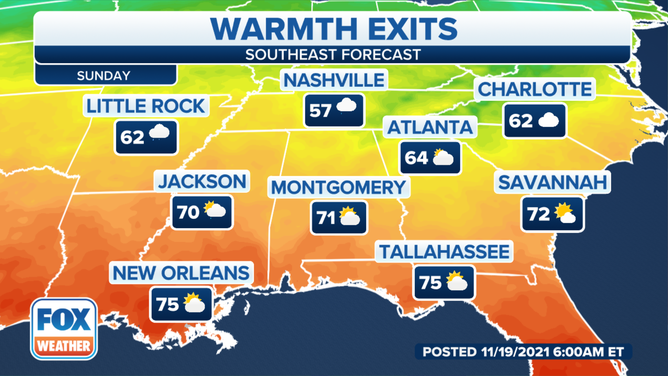 An area of rain will spread from the Midwest to the Northeast Sunday into Monday. Then, colder air arriving behind the storm system could result in a changeover to snow for interior sections of the Northeast. Any snow accumulations are expected to remain on the lighter side.