Cold temperatures extend from northern US into Texas, Louisiana
Temperatures are 20-30 degrees below average in parts of the central United States
Wind chill alerts are in effect for most of the Plains and Upper Midwest as bitterly cold temperatures affecting the region have slowly started to shift east and south.
Some areas can expect temperatures 20-30 degrees below average for this time of year, and some temperature changes over the past 24 hours have been impressive.
Denver was in the single digits on Saturday, but temperatures there have actually risen to about 15 degrees on Sunday.
The rest of the region has seen those temperatures plummet.
Lincoln, Nebraska and Wichita, Kansas, are experiencing temperatures about 10 to 12 degrees colder than Saturday, but the most significant drop has been felt in southwestern Oklahoma and northern Texas.
Oklahoma City has seen temperatures almost 20 degrees colder than 24 hours ago.
However, Lubbock and Wichita Falls, Texas, are experiencing temperatures nearly 40 degrees colder than Saturday.
People across the Upper Midwest and Northern Plains awake Sunday to temperatures that were below freezing.
Bismarck, North Dakota, dropped to -15, and Minneapolis wasn't far behind with a temperature of -13 degrees.
Further south, in places like Lincoln, Nebraska, temperatures were nearly 10 degrees below zero.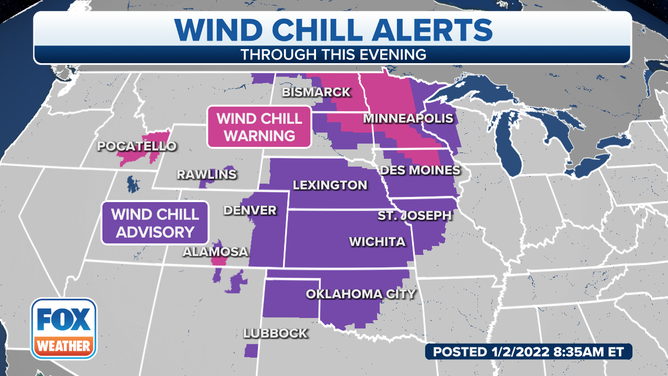 And because of the bitterly cold temperatures and gusty winds, wind chill alerts are in effect across the region.
Most of Minnesota, eastern North Dakota and northeastern South Dakota are under a wind chill warning where the strong winds could make it feel like 50 below zero.
Wind chill advisories extend further south into Iowa, Nebraska, Kansas, Colorado, Oklahoma and Texas.
Parts of Iowa could have wind chill values of -30 degrees.
It could feel anywhere between 10-20 degrees below zero from Nebraska to Texas.
Freeze warnings in Texas, Louisiana
The bitterly cold temperatures affecting the Plains and Upper Midwest have extended as far south as the Gulf Coast.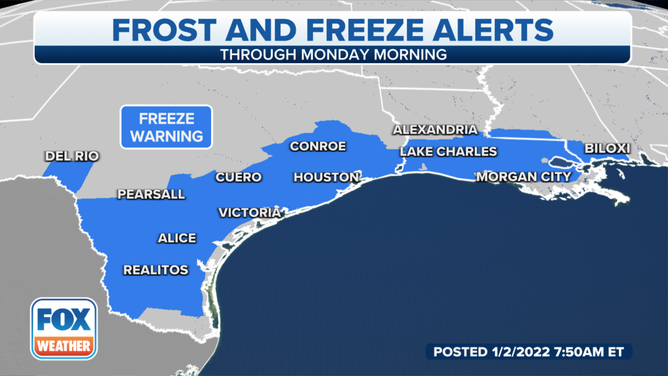 Freeze warnings are in effect across southern Texas, including Houston, Victoria, Alice and Realitos, east into Lake Charles, Louisiana and Morgan City. Some freeze warnings even extend into southern Mississippi.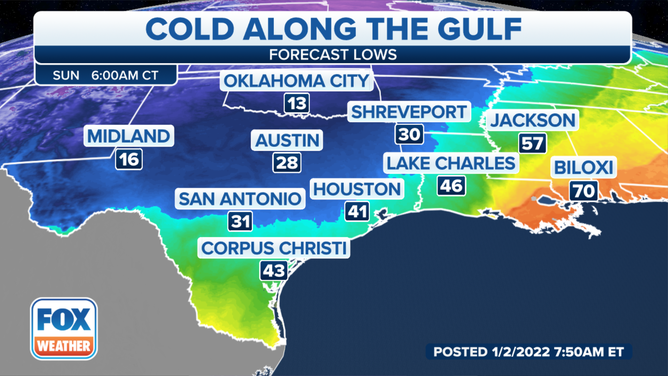 Most of northern Texas woke up to temperatures below freezing on Sunday, and it's expected to be even colder on Monday.
Midland was expected to drop to 16 degrees on Sunday, while further to the east in Austin, temperatures of 25-30 degrees have been reported.
Shreveport, Louisiana, was also below freezing on Sunday morning.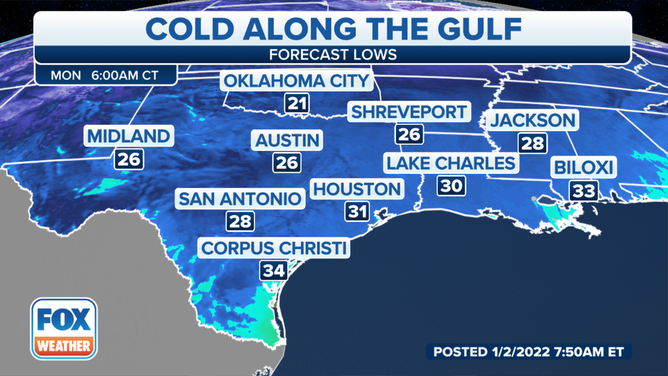 Freeze warnings are in effect because of the colder temperatures. Most areas are likely to see below-freezing temperatures Monday morning, including Austin, San Antonio, Houston and Corpus Christi, Texas.
Further east into Louisiana and Mississippi, temperatures are expected to be in the mid to upper-20s or low 30s to start the workweek.