Cold-stunned sea turtle released into Gulf of Mexico after a year of rehabilitation
Hundreds of sea turtles were rescued from the cold waters off Cape Cod during the annual cold-stun season
BILOXI, Miss. – A sea turtle rescued from the cold waters off Cape Cod in 2020 has been released into the Gulf of Mexico after a year of rehabilitation at both the New England Aquarium in Boston and the Mississippi Aquarium in Gulfport.
According to the New England Aquarium, the Kemp's ridley sea turtle named Typhoon was released into the waters of the Gulf of Mexico off of Biloxi on Jan. 13, concluding 13 months of care and treatments that included acupuncture and surgery to treat a bone infection.
The race is on to save hypothermic sea turtles stranded in Cape Cod Bay
Typhoon was found stranded off of Orleans, Massachusetts, in December 2020 and was suffering from pneumonia and anemia, which is common among cold-stunned sea turtles. Typhoon also had a heart rate of just eight beats per minute.
He received 10 months of care at the New England Aquarium's Sea Turtle Hospital in Quincy, Massachusetts. During his recovery, the aquarium said staff noticed an issue with the right front flipper. After some tests, it was determined Typhoon was suffering from bacterial osteomyelitis, an infection in the bone.
"This is a problem that we see in about one percent of cold-stunned patients. It is believed to be caused by bacteria that enter the bloodstream during the time that the turtles are very cold, when their immune system is not strong," said Dr. Charles Innis, Director of Animal Health at the New England Aquarium.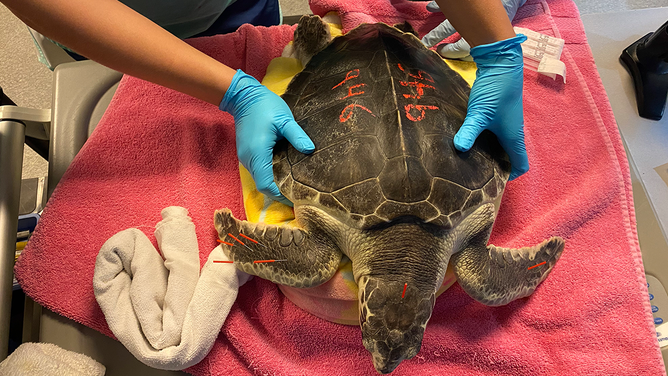 Typhoon underwent several months of treatment with antibiotics before surgery to remove the dead bone last July, according to the aquarium. He also received acupuncture treatments to improve his strength and increase his range of motion.
Sea turtle normally found along US coast washes ashore in UK
As the days turned colder, the New England Aquarium needed to start making room for more turtles to be rescued during the annual cold-stunning event. When the waters off Cape Cod get colder, it shocks the sea turtles, and they're unable to swim to warmer waters.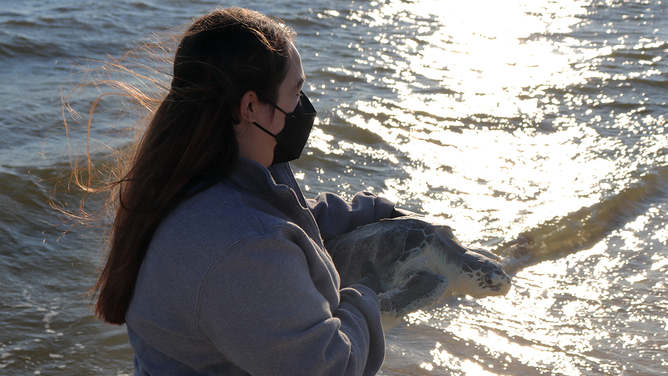 With Typhoon needing a few more months of rehabilitation before being released into the ocean, the Mississippi Aquarium agreed to take him, and volunteer pilots with Turtles Fly Too brought him south to Mississippi.
Turtles Fly Too is a non-profit organization that transports turtles to rehabilitation facilities for treatment.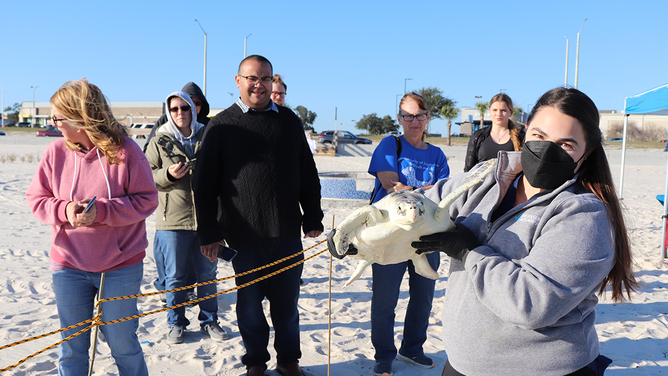 "Mississippi Aquarium is very fortunate to have the capacity and the extraordinary veterinary expertise to care for these turtles," Mississippi Aquarium CEO and President Kurt Allen said. "The Aquarium is now overseeing the veterinary care of over 50 critically endangered sea turtles. We are fortunate that the Mississippi Gulf Coast is in their home range, and the goal of rehabilitation is to nurse them back to health and release them into the Gulf as soon as possible. We are very grateful for the partnership we have with New England Aquarium, and we look forward to assisting with their Kemp's ridley sea turtle conservation efforts."
The New England Aquarium said the annual cold-stun season got off to a late start because of temperature fluctuations that kept the bay warmer for a longer period of time.
In fact, the aquarium said, large loggerhead sea turtles washed ashore, still alive, into the new year.
"This season has certainly been unusual. We are so appreciative of organizations across the country that join us year after year to take an active part in this important conservation work," said Adam Kennedy, Manager of Rescue and Rehabilitation at the New England Aquarium.