Cold front tracking through Midwest, Northeast with much colder temperatures, rain
By Friday and Saturday mornings, freezing temperatures are expected all the way to the Deep South
A cold front will usher in much colder temperatures as it tracks through the Midwest and Northeast with an area of rain Wednesday and Thursday.
Ahead of the front, it will feel more like September from Texas to the mid-Atlantic, where high temperatures will soar into the 70s and 80s Wednesday afternoon. Highs in the 60s are predicted as far north as the southern Great Lakes and western New York. This above-average warmth will shift toward the East Coast on Thursday.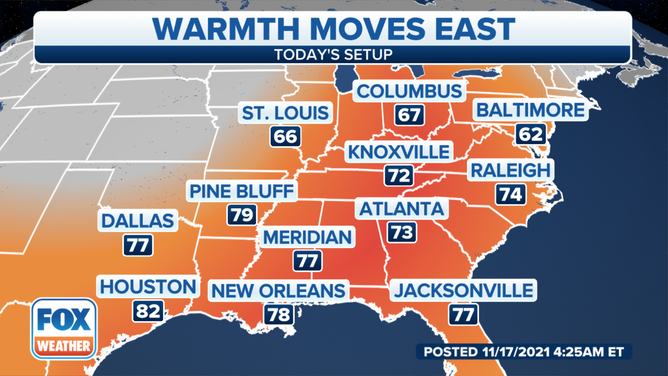 But big changes are ahead in the wake of the cold front, as temperatures will drop from nearly 20 degrees above average back toward average or slightly below average for this time of year.
THE NATION'S FIRST HEAT WAVE RANKING PROPOSED FOR CALIFORNIA
By Friday and Saturday mornings, freezing temperatures are expected all the way to the Deep South.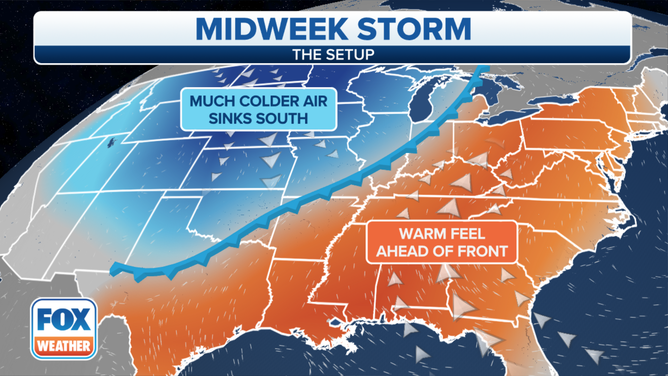 Rain moves eastward
An area of rain associated with the cold front will slide across the Midwest on Wednesday. Showers will arrive in cities such as Chicago and St. Louis by Wednesday afternoon.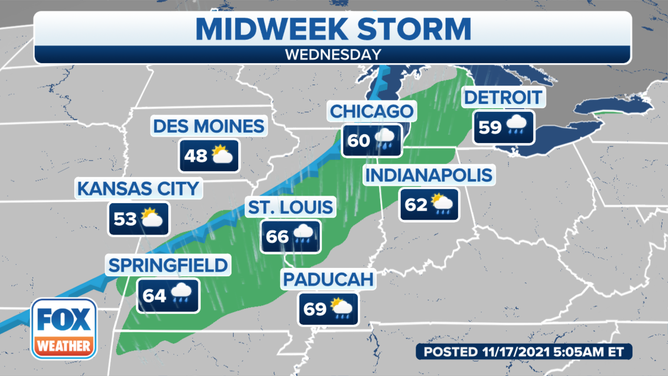 The threat of rain will slide south and eastward toward the eastern Great Lakes, Ohio Valley and parts of the lower and mid-Mississippi Valley on Wednesday night. Detroit should start seeing showers around sunset, though rain will likely hold off until closer to midnight in Memphis, Tennessee.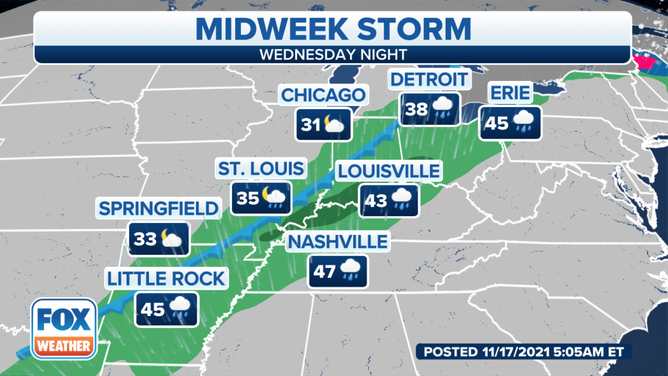 On Thursday, the cold front will continue moving eastward. Showers will overspread areas from the interior Northeast to the Tennessee Valley through the day. The rain will arrive in Charleston, West Virginia, during the morning commute, but it should hold off until the afternoon in Albany, New York.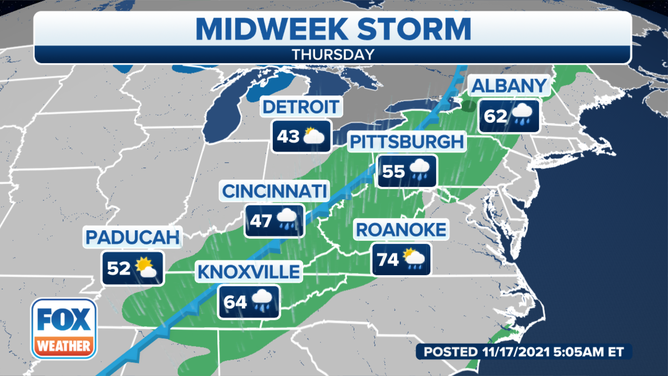 Showers will eventually reach the East Coast by Thursday night. The rain might dampen the tail end of the evening commute in Baltimore and Washington, but it should stay mainly dry in Philadelphia and New York City until after the peak commuting hours. Boston will likely stay dry until after midnight.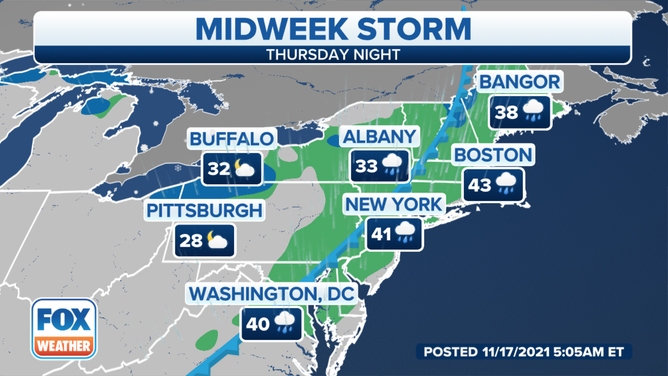 Rainfall amounts will be light across the Midwest, Northeast and South. Most areas will receive less than a half-inch of rain, but a few isolated spots might pick up a half-inch or more.