Cold front triggers severe thunderstorms, flash flooding in Northeast
Flash Flood Watches are in effect from southern New York to Maryland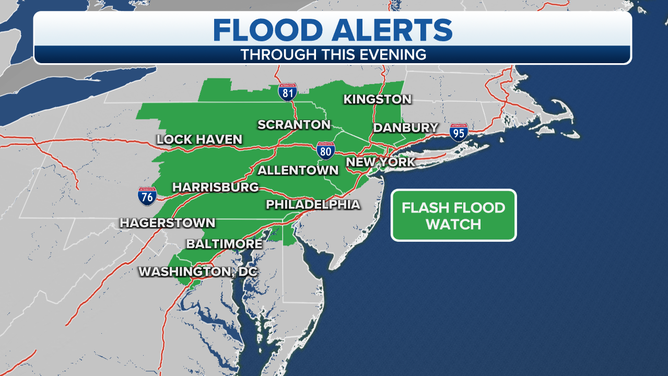 A cold front is moving through parts of the Northeast and mid-Atlantic on Thursday, bringing threats of severe thunderstorms and flash flooding into Thursday night.
The National Weather Service has issued Flash Flood Watches from southern New York to Maryland, areas previously hard hit by heavy rain in the past month.
A band of heavy rain will slide eastward across this region through Thursday night, likely triggering areas of flash flooding. The greatest risk of flash flooding will be from southern and eastern New York into northern New Jersey, eastern Pennsylvania, northern Delaware and northeastern Maryland.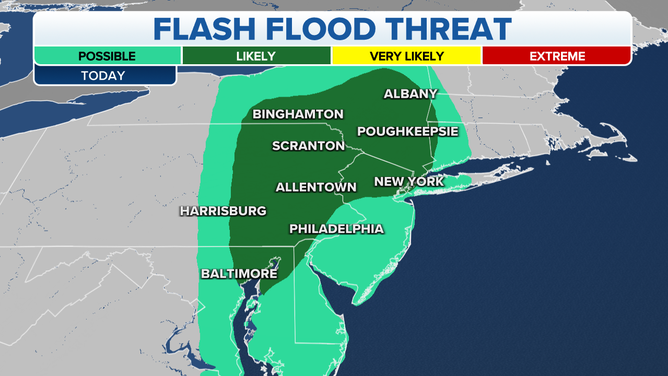 Many places in the Northeast and mid-Atlantic will receive 1 to 3 inches of rainfall Thursday into early Friday. However, localized pockets of 3 to 6 inches are possible, especially along south- and east-facing slopes of the hills and mountains in this region such as the Catskills and Poconos.
While the cold front will move offshore of much of the East Coast by Friday morning, it's expected to linger across New England into Saturday, bringing additional heavy rain to portions of Maine.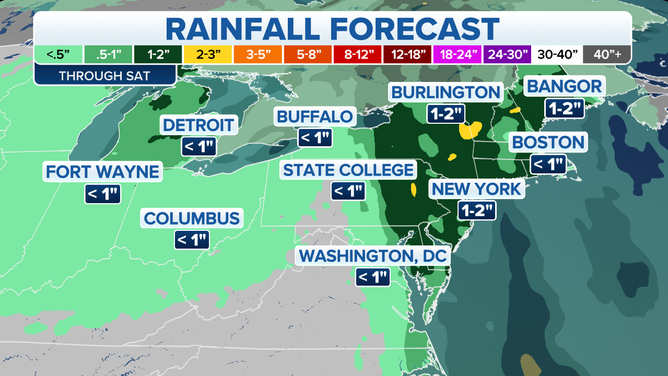 In addition to the heavy rain and flash flooding, severe thunderstorms are also possible on Thursday.
Areas from southern New York into New Jersey, eastern Pennsylvania, Delaware, eastern Maryland and eastern Virginia could see isolated to widely scattered embedded thunderstorms within the band of heavy rain. These storms will pose a low risk of damaging wind gusts or perhaps a tornado or two.