Cold front to spark severe thunderstorms, flash flooding in the East through Friday
Damaging winds, a few tornadoes and flash flooding are all significant threats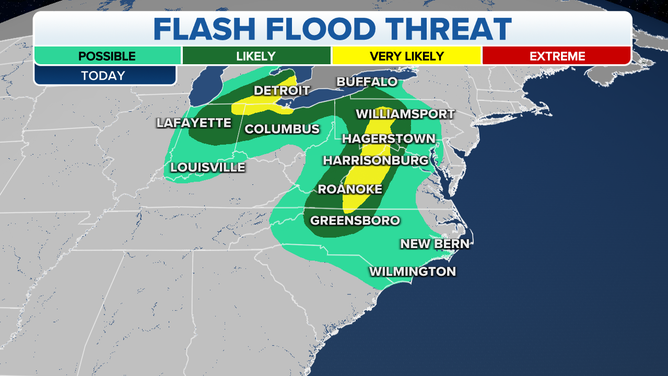 A cold front will slide eastward across the eastern United States through Friday, bringing threats of severe thunderstorms and flash flooding.
On Wednesday, heavy rain is expected to trigger areas of flash flooding in portions of the central Appalachians and lower Great Lakes.
NOAA's Weather Prediction Center said an additional 3 to 5 inches of rain is likely from central Pennsylvania southward through western Virginia over the next 24 hours.
In the lower Great Lakes, 2 to 5 inches of additional rainfall is predicted from southeastern Michigan into northwestern Ohio and northeastern Indiana through Wednesday night.
On Thursday, the heavy rain threat shifts eastward into parts of the mid-Atlantic and Northeast.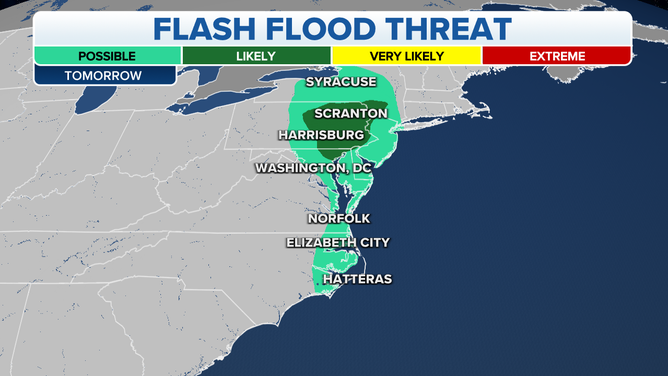 Areas most at risk for flash flooding Thursday include the Catskills and Poconos southward into northeastern Maryland. The WPC said rainfall totals of 2 to 3 inches are likely, with localized amounts as high as 5 inches possible along any south- and east-facing slopes of the hills and mountains in this region.
Rising streams and creeks are a concern on Thursday as well. There's also a threat of urban flash flooding, especially closer to the Interstate 95 corridor from northeastern Maryland to the Philadelphia metro area.
In addition to heavy rain, the cold front will trigger severe thunderstorms Wednesday and Thursday.
On Wednesday, parts of western Pennsylvania, eastern Ohio and northern West Virginia have the greatest risk for severe storms, though strong to severe storms are also possible over a broader area from southwestern New York into the Carolinas.
The main threats from these thunderstorms will be damaging wind gusts and a few tornadoes.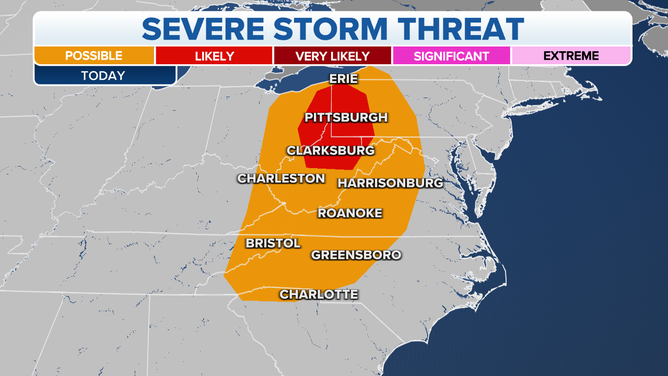 There could be a few severe storms in the mid-Atlantic on Thursday as the cold front slides eastward. Some of this activity might pose a risk for a couple of tornadoes and potentially damaging wind gusts.
The front will push off much of the East Coast by Friday, but it will take until Friday night to exit the New England coast. That means heavy rain, flash flooding and severe thunderstorms are possible across New England on Friday.
High pressure is expected to bring drier, cooler and less humid weather to much of the eastern U.S. this weekend.