Cold air blast brings winter weather to Texas Panhandle behind severe storms
Storms marching east leave behind cold air with the potential for snow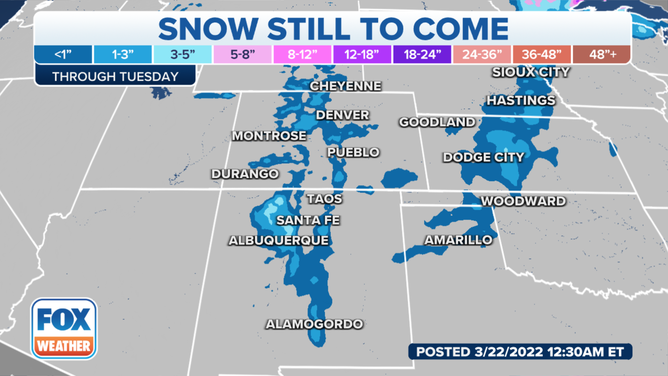 Areas in the South will experience a variety of weather conditions in less than a week as severe storms continue to sweep through Texas, leaving behind a blast of cold air that will next introduce the potential for snow in the Texas and Oklahoma panhandles. 
A multiday severe weather outbreak began Monday in Texas with as many as 20 reports of tornadoes, destructive winds, large hail and flooding. The severe weather will continue across parts of the South as the dangerous storms will slowly march eastward through midweek.
FOX Weather is live with the FOX Weather Wire covering live updates on the multiday outbreak threatening the South, impacting millions of Americans. Click here for live updates.
Behind the storm, cold air is bringing snow to the west in parts of southeastern Colorado. It will drop temperatures across Texas and Oklahoma in areas that just experienced intense storms.
Winter Weather Advisories are in place through 10 a.m. CDT Tuesday for portions of Kansas. The National Weather Service in Dodge City, Kansas, is forecasting snow up to 1 inch and wind gusts as high as 60 mph.
Snow is expected to move into parts of the Texas and Oklahoma panhandles and western Kansas. Areas including Amarillo, Texas and Woodward, Oklahoma, could see several inches. 
The NWS in Amarillo warned morning commuters about slick and slushy roads Tuesday morning. Up to 9 inches of snow fell in areas of the Texas Panhandle, according to the NWS.
While Amarillo received rain and hail Monday into Tuesday, the most severe weather was reported to the east.
A slight cool-down begins Tuesday in the Dallas- Fort Worth area as temperature lows will range from the upper 30s to mid-40s by nightfall. That trend will be temporary as the weekend will warm up to the high 70s, with temperatures reaching or topping 80 degrees by Sunday. 
In just over 24 hours, the Lonestar state experienced numerous weather events from snow, hail, possible tornadoes, gusting winds and wildfire threats.