Coastal storm bringing heavy snow to parts of northern New England on Tuesday
More than 6 inches of snow is possible in portions of central and northern Maine
A strengthening coastal storm is bringing heavy snow to parts of northern New England on Tuesday as periods of rain provide a wet day for coastal Maine.
Winter Weather Advisories have been issued by the National Weather Service for areas away from the coastline in northern New England.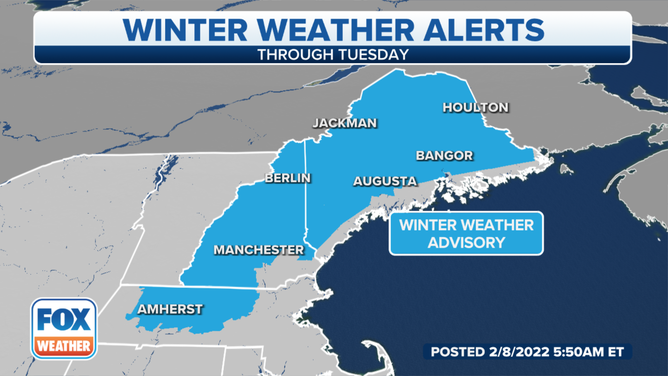 The precipitation will be predominantly rain along the coast of Maine, including in the cities of Augusta, Bangor and Portland.
However, the rain may end as snow on Tuesday evening before tapering to snow showers overnight.
THESE ARE THE 7 SNOWIEST CITIES IN THE U.S.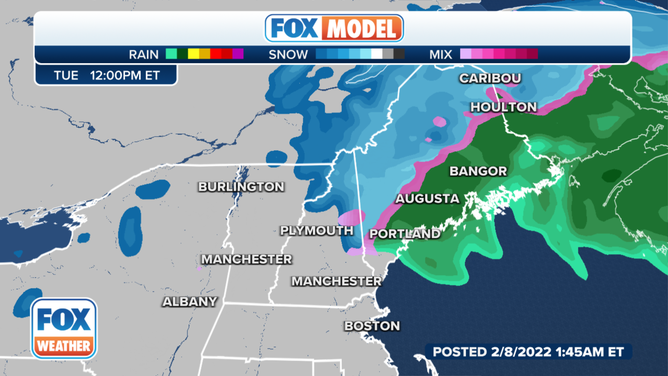 More than 6 inches of snow is possible in portions of central and northern Maine through Tuesday evening. Some locations could potentially receive a foot of snow.
The coastal storm is forecast to track into eastern Canada late Tuesday night, bringing a return to drier conditions across New England by Wednesday.