Quick-moving system produces snow squalls across Great Lakes, Northeast
Parts of the Northeast could pick up 3-5 inches of snow through Saturday night
A clipper system moving through the Northeast brought intense snow squalls and strong winds from the Great Lakes into New England on Saturday.

Accumulations were mostly light but where the sudden bursts of snow came down visibilities were greatly reduced.

The National Weather Service issued winter weather alerts for millions living in the region warning of dangers and the potential for hazardous travel.
WHAT ARE SNOW SQUALLS AND WHY ARE THEY SO DANGEROUS?
Meteorologists said some of the bands produced accumulations of more than 1 inch per hour, while winds gusted to more than 30 mph.
The snow showers triggered the NWS to issue the first Snow Squall Warning in years for the New York City metro area.
The fast-moving system raced across the region on Saturday and exited off the East Coast during the evening hours.

The heaviest accumulations occurred in interior New England and in the mountainous areas, where upwards of a half a foot of snow was expected to fall.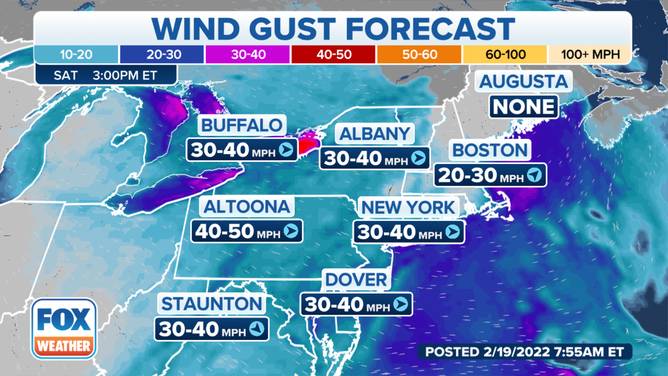 Behind the cold front, gusty winds were expected to remain through Sunday morning.

Meteorologists expect a ridge of high pressure to build into the region, keeping any precipitation away from the East Coast through the start of the workweek.