Cleanup underway after tornadoes touch down in Oklahoma
No major injuries reported as a result of the storms
COWETA, Okla. - Work is underway to restore power and clear debris after tornadoes touched down in parts of Oklahoma Sunday evening.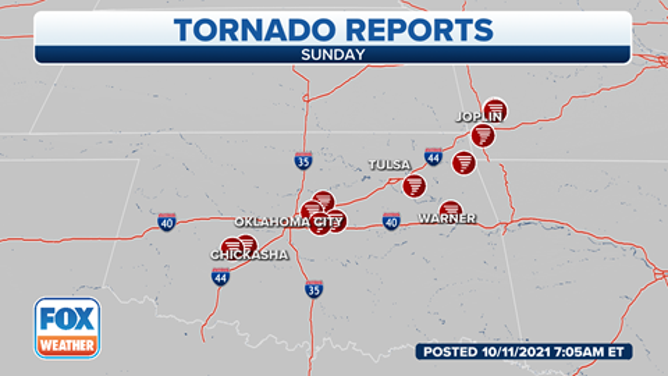 Damage was reported to several homes, buildings and cars when the storms rolled through. Luckily there's no immediate word of any deaths or significant injuries.
Classes were canceled in Coweta, a suburb of Tulsa, after damage was reported at several schools and a baseball park, according to FOX23.
Air conditioners were ripped from one school as a result of the storm. Windows were also blown out and the strong wind knocked over a fence.
One homeowner told FOX23 it sounded like a freight train moving through his yard. He said he lost chickens, a coop and a tractor, but his family was safe.
Large hail was also reported in several areas, including south of Oklahoma City in Norman.
Video posted to social media showed the baseball-size hail crashing down on homes during the severe weather.
Power crews were also out Sunday night working to restore power to thousands of people who lost electricity.
Oklahoma Gas & Electric said their crews were working as quickly and safely as possible to get the lights back on in a Facebook post.
They also reminded residents to stay away from any downed power lines or utility poles.