Canadian wildfire smoke causing air travel delays, cancellations across US
School activities have been canceled and baseball games postponed. Also, thousands of flights have been delayed as low visibility causes ground stops.
Thick Canadian wildfire smoke continues to choke millions across the eastern U.S. It is disrupting lives as people worry about the air quality numbers soaring. 
School activities have been canceled and baseball games postponed. Also, thousands of flights have been delayed as low visibility causes ground stops. 
The Federal Aviation Administration (FAA) said reduced visibility from wildfire smoke would continue to impact air travel Thursday. Aviation officials said they would likely need to take steps to manage the flow of traffic safely into New York City, Washington, Philadelphia and Charlotte, North Carolina.
OVER 100 MILLION IN EASTERN U.S. WARNED OF 'UNHEALTHY' AIR AS CANADIAN WILDFIRE SMOKE SPREADS SOUTH, WEST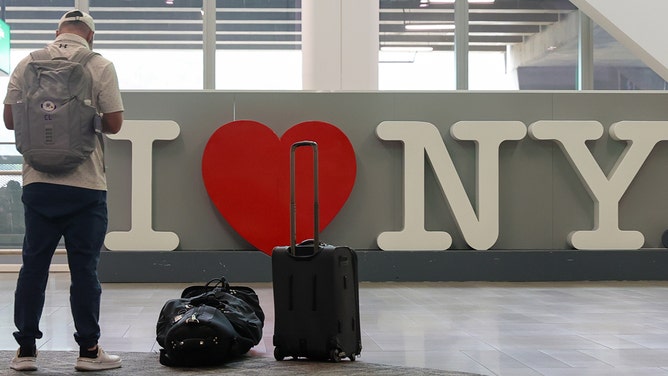 LaGuardia Airport (LGA), New York
Flight disruptions could be seen Thursday morning after the FAA paused flights from the Northeast, Ohio Valley and mid-Atlantic that were bound for New York's LaGuardia Airport. 
The airport said low visibility due to smoke conditions in the region is impacting flight arrivals and departures. 
Pilot Chasen Michael Coscia was due to fly out of LaGuardia on Wednesday when he recorded video showing the surreal orange haze encompassing the airport. He was conducting preflight duties when he decided to step outside and record the smoke. 
"Visibility dropped to one and a quarter miles, with haze and smoke," he said.
Newark Liberty International Airport (EWR), New Jersey
Are you traveling to Newark Liberty International Airport in New Jersey today? The FAA said it has now delayed all flights bound for the airport nationwide.
Philadelphia International Airport (PHL), Pennsylvania
Passengers flying to and from Philadelphia International Airport should also check with their airlines for the latest flight updates. Inbound and outbound flights were held temporarily Thursday morning due to low visibility, the FAA said.
By 10 a.m., officials said flights to the airport had resumed.
WHAT'S THE STATUS OF CANADIAN WILDFIRES SENDING SMOKE INTO THE U.S., AND WHEN WILL IT END?
Is it safe for planes to fly in wildfire smoke? 
The FAA said it has been getting lots of questions about why wildfire smoke causes more flight delays than rain or fog. 
However, some people might wonder why smoke causes more delays than fog or rain when aircraft need to land during periods of poor visibility, FAA's Kevin Morris said.
"They rely on advanced navigation systems, both onboard the aircraft and on the ground," he added. "These systems work well through water droplets, but can be less effective through solid particles such as smoke and ash." 
Therefore, during periods of low visibility due to smoke, air traffic controllers and pilots need to take additional safety precautions, Morris continued.
"This includes greater distances between arriving and departing aircraft, as well as limiting the types of aircraft they may land based on their navigation equipment," he said. 
Additionally, because smoke can linger much longer than fog or rain, the FAA may slow traffic to keep the airspace safe.