Calf Canyon, Hermits Peak fires spread in New Mexico to over 60,000 acres
Firefighters said excellent progress has been made on the Calf Canyon and Hermits Peak fires in anticipation of high winds and elevated temperatures later this week
LAS VEGAS, N.M. – More than 60,000 acres have been scorched by a New Mexico wildfire that has been burring for nine days as containment levels hover just above 10%. 
However, firefighters said excellent progress has been made on the Calf Canyon and Hermits Peak fires in anticipation of high winds and elevated temperatures later this week. Shifting winds with unpredictable directions are possible Wednesday as well as thunderstorms with the potential for dry lightning.
MEET THE METEOROLOGISTS WHO HEAD TOWARD THE HEART OF A FIRE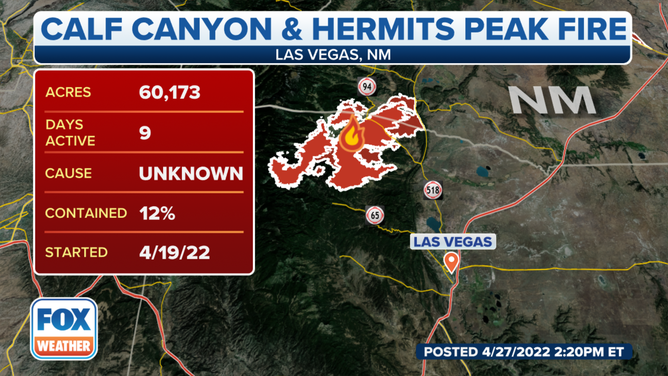 Smoke impacts will be reduced in the Las Vegas, New Mexico, area due to shifting winds. Fire activity around Rociada, Pendaries and Sapello continues producing unhealthy air quality conditions throughout the day. Authorities said smoke will reduce visibility along portions of State Highway 518 north of Sapello.
There is 910 personnel working near Gallinas Canyon. The cause of the fire is still under investigation.
While loss and damage assessments continue, power lines to some areas around the fire perimeter have been restored. 
MAKING SENSE OF WILDFIRE JARGON
Evacuation and road closures still remain in place, as crews are working around the clock to secure lines that can stand the test of strong winds.
Aircraft is also continuing water delivery. Four scooper planes and six helicopters are part of the aerial assault. 
HOW TO BEST PREPARE YOUR HOMES FOR WILDFIRES
Evacuation levels and road closures determined by the San Miguel County Sheriff's Office and Mora County Sheriff's Office remain in place.