Chiefs vs. Bucs game to remain in Tampa Bay following Ian
The Tampa Bay Buccaneers announced Thursday that it would play Sunday night's Week 4 game against the Kansas City Chiefs at Raymond James Stadium as originally scheduled.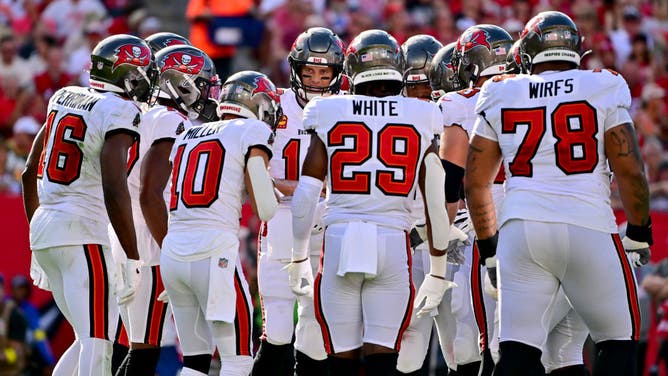 Visit the FOX Weather Wire for live updates on Ian. Click here for the latest forecast, power outages and more.
Florida's NFL and college football teams will play their scheduled games this weekend with minor changes despite the widespread damages caused by Hurricane Ian across the Sunshine State.
The Tampa Bay Buccaneers announced Thursday that it would play Sunday night's game against the Kansas City Chiefs at Raymond James Stadium as originally scheduled.
With Hurricane Ian set to move over Florida's west coast, the Bucs were evacuated and relocated to practice in South Florida. The team spent the week practicing at the Miami Dolphins Baptist Health Training Complex.
As a backup site, the NFL selected U.S. Bank Stadium in Minneapolis should the Sunday night matchup vs. the Chiefs need to be moved due to Hurricane Ian. 
$5 BILLION STADIUM HAS LITTLE AC: HOW LA PLANS TO COOL FANS DOWN
Raymond James Stadium was spared when the hurricane hit about 100 miles south. The Tampa Bay area has suffered from flooding and damages, the unroofed stadium looks to be spared.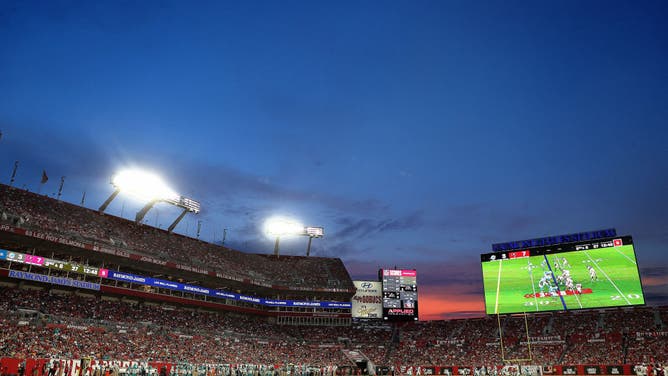 Ian had maximum sustained winds of 150 mph as it crashed ashore near Cayo Costa, Florida. Ian will continue to bring life-threatening flooding, storm surge and high winds to parts of Florida on Thursday as it re-strengthened into a hurricane and heads for a final landfall in South Carolina on Friday.
"We would like to thank all of the local government agencies and the thousands of emergency personnel who worked tirelessly over the past few days to ensure that our area would be ready to respond if needed," the team said in a statement. "We would also like to acknowledge the Miami Dolphins organization for their assistance and hospitality in allowing us to use their practice facilities this week.
IAN LEAVES 2 MILLION IN DARK AS FLORIDA SLAMMED WITH 150 MPH WINDS, MASSIVE STORM SURGE
The Glazer family, who owns the NFL team, announced on Friday a $1 million donation to help with Ian relief efforts across the state.
"The destruction suffered in Southwest Florida and the damage inflicted throughout our state will be felt for some time," Buccaneers Co-Owner Darcie Glazer Kassewitz said in a statement. "It will take entire communities resiliently working together for an extended period, and our family is committed to aiding in the recovery. Our thoughts and prayers are with the countless people affected, the heroic first responders and all of those helping to keep others safe."
Other NFL Week 4 matchups
Florida's other NFL teams will also continue with scheduled games on Thursday and Sunday. 
The Jacksonville Jaguars play the Philadelphia Eagles on Sunday at 1 p.m. ET in Philadelphia. 
HEAVY RAIN FLOODS SOLDIER FIELD DURING CHICAGO BEARS' SEASON OPENER AGAINST SAN FRANCISCO 49ERS
The Miami Dolphins played the Bengals on Thursday in Cincinnati, losing 27 to 15.
College football Week 5 to go off without a hitch
College football games will also continue this weekend with some changes.
Florida State University Seminoles will host Wake Forest at 3:30 p.m. Saturday. The game has not been moved, and Florida State officials say they can safely host the game Saturday afternoon. 
Florida A&M will host Miss Valley State on Saturday in Tallahassee at 6 p.m. 
HOW WEATHER CAN IMPACT NFL GAMES
The University of Florida Gators moved its game against East Washington originally planned for Saturday to Sunday with a noon kickoff.
In Orlando, where Hurricane Ian brought major flooding from more than a foot of rainfall in 24 hours, the University of Central Florida Knights moved its game to Sunday at 1 p.m. The Knights will host Southern Methodist University Mustangs at FBC Mortgage Stadium. 
The University of Miami has a bye week and Florida Atlantic University has an away game against North Texas.