Atlantic disturbance has a rough road ahead
The environment ahead of the storm looks pretty hostile and the system is looking disheveled on the satellite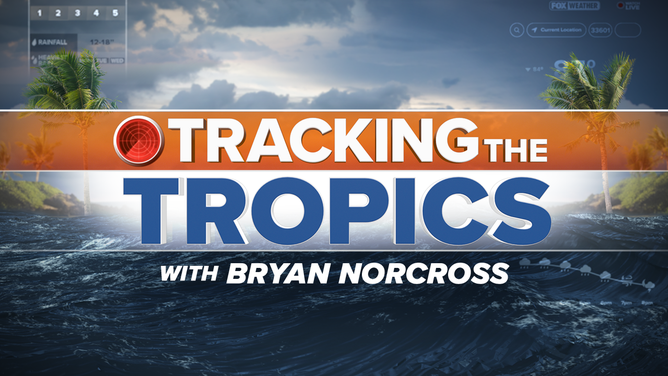 Updated 9 a.m. Eastern: The tropical disturbance on the far side of the Atlantic continues its trek in the general direction of the Caribbean islands. The environment ahead of the storm looks pretty hostile, however. And the system is looking disheveled on the satellite.
There continues to be dry, dusty air over a good part of the Atlantic just to the north of the disturbance. As the system tries to lift slightly to the north out of the belt of moisture closer to the equator, more dry air is likely to be pulled into the circulation, which will limit development.
HOW TO WATCH FOX WEATHER ON TV
The chance for tropical development.
(FOX Weather)
---
In addition, if the forecast is correct, the disturbance will encounter a corridor of hostile upper winds and cooler ocean-water temperatures when it's in the vicinity of the Caribbean islands around the weekend. This would lower the likelihood that the disturbance would be organized by the time it approaches the islands.
There is still a window of time for the disturbance to organize over the Atlantic if it can sufficiently hold off the dry air. The National Hurricane Center has lowered its chances of development just a bit, however. It's now in the low-odds-of-development category.
Even if the system might organize into a tropical depression or tropical storm over the open Atlantic, it appears most likely it would approach the islands as a fairly weak system or just a moisture surge late in the week or over the weekend.
The long-range computer forecast models show disturbances rolling off Africa, which is expected this time of year. But Saharan Dust is forecast to continue to cover much of the eastern tropical Atlantic, so no systems are currently forecast to organize.
Except for the current disturbance, no tropical systems are expected to develop through the weekend, at least.
FOX Weather Hurricane Specialist Bryan Norcross has a podcast, Tracking the Tropics with Bryan Norcross, available now on FOX News Audio. You can get it on your device by clicking here.