Slow-motion Atlantic disturbance still might affect land while Danielle strengthens
The National Hurricane Center forecasts Danielle to reach Category 2 strength before it heads into cooler waters in the northeast Atlantic.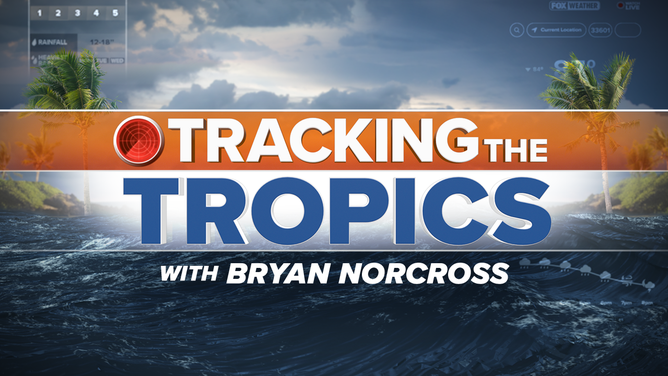 Updated at 9 a.m. Eastern: There is a truism in the forecasting business that says, "forecasts for slow-moving, disorganized, or just developing tropical systems are subject to larger-than-average errors and are likely to change." Some long-range computer forecast models indicate that we shouldn't take our eye off Tropical Disturbance #1.
The question is whether the disturbance can organize and strengthen over the next few days. If it turns into a tropical depression or tropical storm over the weekend or early next week, it's likely to turn north and eventually curve out to sea.
HOW TO WATCH FOX WEATHER ON TV
If, however, the system fails to organize and remains big blob of tropical moisture with a wannabe circulation, it's more likely to drift closer to Puerto Rico and the islands bringing some tropical downpours. Soil is already saturated in parts of Puerto Rico from recent heavy rain. So mudslides will be possible in mountainous areas.
About Sunday, the consensus is there will be a fork in the road. A strengthening system would likely lift to the north, while a weak system might meander in the waters near the Bahamas. In the latter case, it's unclear what might happen down the road because the steering pattern will evolve with time.
Unusually dry air is in and around the broad circulation. It's always difficult to know when or if a system will be able to find enough moisture to generate sufficient thunderstorms to consolidate into a depression or tropical storm.
The bottom line is that the disturbance is forecast to creep to the west through the weekend. By early next week, we should have a better idea of how the system and the steering pattern will come together. Nothing is going to happen fast.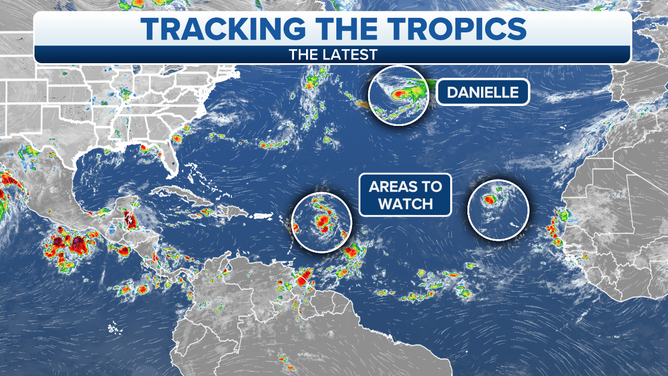 Danielle is nearing hurricane strength in the North Atlantic. It has found itself in a pocket of atmosphere that is conducive to strengthening over unusually warm ocean water. The National Hurricane Center forecasts Danielle to reach Category 2 strength before it heads into cooler waters in the northeast Atlantic.
Danielle won't be a threat to land. Although its remnants might affect the British Isles down the road.
Tropical Disturbance #2 is very disorganized and has a low chance of developing in the far eastern Atlantic. It's plowing ahead into very dry air and is forecast to fade out in the next few days. In any case, it's not a threat to land.
HOW TO DOWNLOAD THE FOX WEATHER APP
Looking ahead, the long-range computer forecast models indicated that the Atlantic will not be especially conducive for tropical development for the first part of September. Though there is the caveat that we have to keep an eye on Tropical Disturbance #1 to be sure it doesn't drift into the waters near the Bahamas and sit, which could make its future hard to predict.
Nothing will happen fast, so enjoy the quiet Labor Day weekend along the U.S. coast. There's a long history of tropical systems goofing up Labor Days of the past. 
FOX Weather Hurricane Specialist Bryan Norcross has a podcast, Tracking the Tropics with Bryan Norcross, available now on FOX News Audio. You can get it on your device by clicking here.