On your marks: Weather expected to cooperate for 126th running of the Boston Marathon
30,000 people expected to participate in this year's Boston Marathon
BOSTON - Monday marks the 126th running of the Boston Marathon, and for the first time since 2019, the world's oldest marathon is being held in April.
The race was canceled in 2020 and conducted virtually later that year. And in 2021, the race was held in October.
Traditionally, the Boston Marathon is held on the third Monday in April, which is also known as Patriots' Day. The local holiday commemorates the battles of Lexington and Concord marking some of the first battles of the Revolutionary War.
The 26.2-mile Boston Marathon route.
(FOX Weather)
---
The race begins in Hopkinton, Massachusetts, and makes its way through several towns in the eastern half of the state before eventually finishing up on Boylston Street in downtown Boston.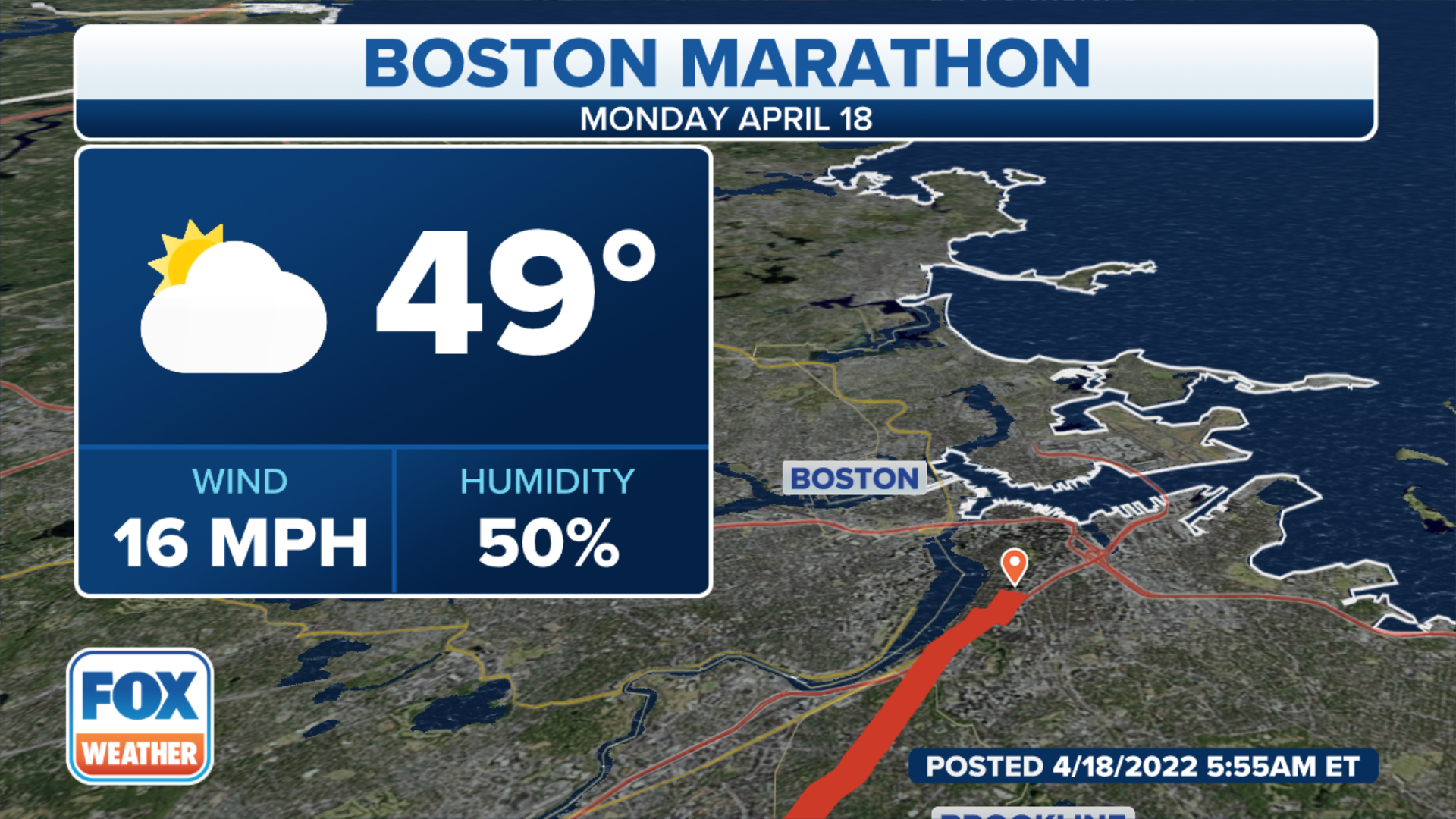 The forecast for the Boston Marathon.
(FOX Weather)
---
As far as the forecast goes, runners can expect conditions to cooperate with the exception of the winds, which are expected to be around 16 mph.
Temperatures will be pleasant as well with a high forecast to be around 49 degrees with some clouds.
The relative humidity will remain around 50%
Boston Marathon Weather History
If the race distance and elevation changes weren't challenging enough for runners, the weather has been pretty harsh for participants in the past.
In 1961, snow squalls driven by winds of 10-12 mph were reported with a temperature of 39 degrees.
2018 was a miserable year for runners. There was driving rain, winds that gusted over 45 mph and temperatures hovered in the low 40s.
But it hasn't always been cold, snowy and rainy.
In 1905 the temperature was reported to have reached 100 degrees. Temperatures were about 96 degrees in 1976 and nearly 90 degrees by mid-day in 2012.